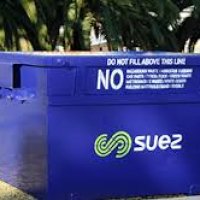 Wednesday, 13 November 2019
The University's FREE campus-wide furniture, waste and e-waste collection to remove all unwanted, old or damaged items is available from Monday 25 November to Friday 13 December.
We ask that you take the time to check your work and storage areas for items that are no longer used or required, damaged or taking up space unnecessarily (these items are not only unsightly, but also create a safety hazard).
What CAN be disposed of at the waste collection points?
Bulk waste bin
light office waste
plasterboard
furniture (all types)
scrap metal
plastic bottles and containers
E-waste bin
TVs, computers (desktops and laptops), monitors
office equipment – photocopiers, fax machines, scanners, printers, servers, projectors, DVD players, video recorders, cameras, CDs, DVDs, tapes, stereos
electronic components
phones – mobiles and landlines
appliances – vacuum cleaners, microwaves, fans, de-gassed  fridges / freezers / air conditioners (send confirmation of de-gassing and skip bin location to

[email protected]

)
For further information on e-waste items, phone 6488 1515.
What is NOT collected?
No hazardous materials, such as paints, solvents, chemicals and medical waste or equipment.
Can I request Campus Management to help remove large/heavy items?
Campus Management is co-ordinating the collection. However, your work area is required to arrange the transportation and disposal of items to the designated waste collection points.
For items that are too large/heavy to move, a request to have these collected from your area can be submitted to Campus Management via the online service request or call the Campus Management Helpdesk on 6488 2025.
University assets
PLEASE NOTE: All University assets (equipment with an original purchase price greater than $5,000) and all attractive items such as mobile phones, tablets, laptops, cameras, televisions etc. are recorded in asset/attractive item registers. Before disposing of any item which may be an asset or attractive item, please contact your local Financial and Staff Resources team to ensure the item is appropriately retired from the relevant register.
A copy of the UWA Asset Retirement Form is available here.
Where are the collection points?
See the map for the nearest skip bin locations on campus.
For further information, email [email protected] or call 6488 2004.
Tags
Groups

Campus Management