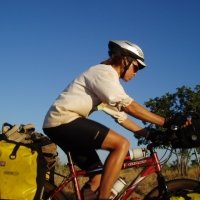 Thursday, 17 January 2008
Kate Leeming
Deputy Head Professional, Royal Melbourne Tennis Club
Adventure cyclist
Author of Out There and Back; the story of the 25,000km Great Australian Cycle Expedition; BPE (1987); Dip Ed (1988)
Studying physical education at UWA seemed a natural progression after school, given my abilities as a sporting "all-rounder". After completing my degree in 1987, I didn't really know what I wanted to do so I added a Dip Ed to my qualifications and taught for a year before heading to the UK on a UWA Hockey Club tour. I then spent a couple of years pedalling 15,000km from Spain to Turkey and up to the Nord Kapp in Norway. This was my personal discovery of Europe.
In 1993, I organised and led the Trans-Siberian Cycle Expedition - a 13,400km journey from St Petersburg to Vladivostok aiding the children of Chernobyl.
Based back in London after the expedition, I discovered the game of real tennis – the original sport from which all other racquet sports descended. After a couple of years I became a professional - one of two female pros in the world at the time. I went on to work at The Oratory School near Reading, Cambridge and then Fontainebleau in France before returning to Australia in 2003 as the Deputy Head Professional at the Royal Melbourne Tennis Club.
Having spent more than 10 years away from Australia, I had a strong desire to see how my own country compared to other parts of the world and set about organising the Great Australian Cycle Expedition, or GRACE - a 25,000km unsupported journey through Australia. The project, documented on my website ( www.gracexpedition.org ), was chosen by the United Nations as Australia's first Demonstration Activity for their Decade of Education for Sustainable Development.
Since completing the GRACE Expedition, I have written my first book, Out There and Back . My UWA qualifications have been and remain useful in a career path which I could not have predicted when I graduated.
Tags
Channels

Alumni

Groups

Science Matters