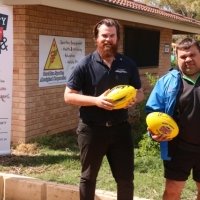 Tuesday, 8 September 2020
The Men Against Violence round of the Great Northern Football League (GNFL) will be returning for its second year.
Coinciding with the Father's Day weekend, the round will be held on the 5th and 6th of September at Chapman Valley, Brigades and Railways.
Round 9 of the GNFL and GNWFL 'Men Against Violence' rounds will promote positive fatherhood and the roles men can play to be positive dads or male role models.
Geraldton Sporting Aboriginal Corporation (GSAC) Executive Officer Adrian Bartlett says "It is exciting to have the Men Against Violence round back for its second year."
"We will talking to clubs and at games to promote the role fathers and men can play in creating a safe community."
WA Centre for Rural Health Research Assistant Luke Ringin says "The role of fathers has changed and these days many men love being involved dads and enjoy sharing family responsibilities such as cooking and cleaning, getting kids ready for school and looking after them when they are sick. This is great because it shows fathers have a role in raising caring, kind children."
"We want men to feel that they can be caring and supportive dads without being judged by outdated ideas of masculinity."
Even as campaigning for the 2021 election kicks off, funding support for the Men Against Violence Round has continued from last year's sponsors of our state politicians from Geraldton and the Agricultural Region. Ian Blayney MLA, Shane Love MLA, Darren West MLC, Laurie Graham MLC, Martin Aldridge MLC, Colin de Grussa MLC.
The Men Against Violence program run by the WA Centre for Rural Health in partnership with the Geraldton Sporting Aboriginal Corporation aims to engage young men through sports clubs to talk about how they can help to prevent family violence by changing attitudes around gender stereotypes.
If you are a member of a Midwest sport club interested in being involved in this program, call Luke Ringin on 9956 0200 or email Luke Ringin
The WA Centre for Rural Health of the University of Western Australia is one of 16 University Departments of Rural Health in Australia. The main office is based in Geraldton in the Midwest of Western Australia, with a satellite office based in Karratha in the Pilbara. It aims to improve rural, remote and Aboriginal health through research, education, student support and community service activities. For more information, visit: www.wacrh.uwa.edu.au
Media references
Mia Jeffrey, Marketing and Communications Officer - (08) 9956 0225 [email protected]
Tags
Channels

Regional — Science

Groups

Faculty of Health and Medical Sciences