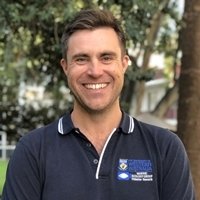 Tuesday, 8 September 2020
About Todd Bond
Todd Bond is a marine ecologist with the Marine Ecology Group – Fisheries Research lab in the School of Biological Sciences and UWA Oceans Institute. He works with marine scientists from many different disciplines, specialising in fish and shark ecology.  Todd submitted his PhD in May this year and recently sat his Viva Voce. His PhD research investigated how fish and fisheries interacted with subsea oil and gas pipelines located on the North West Shelf (NWS) of Western Australia.

Prior to commencing his PhD, Todd worked at UWA as a Research Assistant for research groups specialising in baited remote underwater stereo-video (stereo-BRUV) sampling methods which required a lot of traveling. He has worked from Albany in the south of WA to Dampier in the north, as well as in Brazil, the United States, Indonesia, and Fiji. The skills he developed in this role provided an easy transition into PhD life and his current position as a Research Associate with the School of Biological Science and UWA Oceans Institute.

Todd supervises master's students and teaches undergraduate students. He also teaches in a postgraduate field-based unit at Rottnest Island.

The influence of subsea infrastructure on fish and fisheries and the implications of decommissioning

Decommissioning offshore infrastructure is a major global issue estimated to cost Australia $18 billion over the next 50 years. Australia's current policy favours the full removal of infrastructure that has reached the end of its life and is no longer being used. However, state and federal regulators may accept alternative options if it can be demonstrated that the alternative decommissioning approach delivers equal or better environmental, safety and integrity outcomes compared with full removal.

My research assesses the value of in-situ infrastructure to fish ecology and fisheries on the North West Shelf of Western Australia, and will provide scientific evidence to assess decommissioning alternatives. Recently, I have been working with oil and gas operators on the North West Shelf to understand how fish may be interacting with their subsea infrastructure.

I am drawn to this work because it is impactful and the results are important in shaping policy and the future of decommissioning in Australia. My work provides critical scientific information that informs decisions on the 'best' decommissioning approach.

I also chose this PhD because it presented a challenge and I didn't know what to expect. The marine environment on the NWS is diverse, dynamic, remote and, in water deeper than 100 metres, largely unknown. We have recorded animals that have never been seen in their natural environment, including some fish that are potentially a new species. We also found mystery circles that we believe are constructed by male pufferfish as a nest. This was incredible to discover and one of the highlights of the past few years.

Undersea challenges

The biggest challenge is working in a remote and deep environment. Much of this infrastructure is located on the seabed in water deeper than 100 metres, beyond the limits of scientific divers.

I analyse video collected by oil and gas operators using a remotely operated vehicle (ROV) during routine inspection of their infrastructure, but also drop baited remote underwater stereo-video ( stereo-BRUVs ) to collect information on fish, sharks and the habitat on and around this infrastructure.

Can we have a healthy marine ecosystem alongside industry infrastructure? Definitely, but I think the question should be Does the marine ecosystem benefit from the presence and persistence of industry infrastructure? This is difficult to answer, but there is increasing evidence to suggest the answer is, yes. The NWS has had a rough history with the removal of epibenthic organisms (organisms living on the seabed) as a result of foreign trawling from the 1950s to the end of the 1980s. We need to understand the role hard structures, like oil and gas pipelines and platforms, play in supporting, connecting, and promoting epibenthic organisms and associated marine life.

My research has found high abundance and diversity of fish on pipelines compared with areas adjacent to the pipelines, and high numbers of commercially important fish around oil and gas infrastructure. We know this infrastructure attracts valuable fish biomass, but we are still determining if these environments produce valuable fish biomass. This is a complex problem and an exciting one to work on.

Working closely with oil and gas operators has been a great experience. These companies have exceptionally talented scientists working for them and they have added considerable insight into my research. The collaboration is a great example of multidisciplinary science and links to industry.

On being a finalist in the Exxon Mobil Student Scientist of the Year

I am honoured to be named as a finalist in the Exxon Mobil Student Scientist of the Year. It means a lot to be recognised for my research and the impact it has on the State of Western Australia. Young scientists regularly feel out of their depth and I am no exception – imposter syndrome is terribly real and scary. In some ways, being announced as a finalist accentuates this feeling, but for the most part, I am proud and happy.
Tags
Groups

Education Quarterly