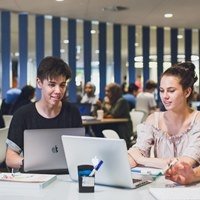 Friday, 4 September 2020
Academic Integrity is described by the Tertiary Education Quality and Standards Agency (TEQSA) as the 'moral code of academia involving the use, production and dissemination of information in a respectful and responsible way'.1
Amendments to the Tertiary Education Quality and Standards Agency Act 2011 introduced in late 2019 reflect emerging and increasing threats to this moral code such as the growth of commercial assignment services and contract cheating. TEQSA encourages universities to be vigilant and ensure that the principles of academic integrity are communicated and upheld by their communities.

Since 2007, UWA has been delivering the Academic Conduct Essentials (ACE) unit to all commencing coursework students. This unit seeks to develop students' knowledge and understanding of ethical scholarship, academic integrity, literacy and misconduct, aligning with the University's Policy on Academic Conduct. Since its inception the unit has been continually reviewed and improved to ensure the approach, content and mode of delivery remain relevant and effective in building an awareness and understanding of what academic integrity is and how to maintain it.

The unit underwent a significant review in 2019 under the guidance of the Academic Quality and Standards Committee leading to a range of recommendations, endorsed by Academic Board in June 2020. Through the implementation of these recommendations there will be significant changes to the delivery of academic integrity training from 2021.

The most significant change will be the implementation of an external product published by Oxford University Press (OUP), the Epigeum Academic Integrity course, and the retirement of the UWA-produced unit.

UWA currently subscribes to several other OUP Epigeum courses including Consent Matters and Research Integrity, and will soon commence a subscription to Supervising Doctoral Students through the Graduate Research School. The Academic Integrity course has been implemented at 19 Australian and New Zealand universities, including three Go8 universities and three WA universities. The subscription offers two courses: a student-facing course and a staff-facing course. Each is customisable to UWA's specific requirements.

Using the Epigeum academic integrity course as the basis, there will be a unit designed for coursework students, a separate unit for research HDR students and a course targeted at academic and teaching support staff. The modules will be integrated into the LMS; supplementary academic integrity training and support materials for students and advice and support to embed principles of academic integrity into units and courses will be made available.

The implementation of the Epigeum Academic Integrity course will be a collaborative effort by the University Library, the Educational Enhancement Unit and the Graduate Research School.
More information on these courses can be found at the Epigeum website .


---
1. https://www.teqsa.gov.au/latest-news/publications/guidance-note-academic-integrity
Tags
Groups

Education Quarterly