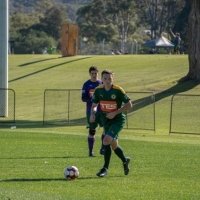 Tuesday, 21 July 2020
As much of Australia emerges from social hibernation, most sport clubs are now graduallly returning to play.
UWA Sport Clubs are getting back into action; here are some recent highlights from around the grounds.
UWA Cricket Club members Ash Agar, Dave Moody and Corey Rocchiccioli headlined the news by making the WACA squad for the 2020/21 season.
Exciting news for Glenda Morgan and Philippa Pedley, two UWA Waterpolo Club members, for their selection into the Waterpolo Australia Under 20's squad.
The UWA Rugby Club Premier Grade Division started their season with a perfect record of 3 wins and 0 losses.
Promising rugby players Aidan Shortall, Jack Bromley and Connor O'Sullivan have been consistently scoring tries to help secure steady wins.
The UWA Tennis Club have plenty of talent to showcase, with training led by ATP player Matt Edben.
The UWA Hockey Club are eager to return to their favourite sport, setting up a July Holiday Clinic to give young up-and-comers a chance to up-skill and train during their school holidays.
The UWA-Nedlands Football Club remain stronger than ever scoring 67 goals over a single weekend with both the Reserves and 18s Team currently remaining undefeated.
Congratulations to all the clubs for a strong start! Great to see all clubs on their return to competition and restarting in a new normal.
Media references
Lisa Yang
Graduate Officer: UWA Sport Marketing
6488 2286
Tags
Channels

Sport

Groups

UWA Sport