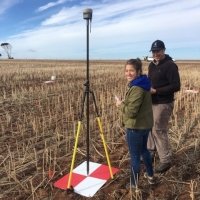 Tuesday, 14 July 2020
Researchers at The University of Western Australia have investigated the use of Remotely Piloted Aircraft Systems (RPAS) to detect early-weeds in broadacre wheat crops.
This technology has the potential to reduce herbicide inputs in farming systems, therefore decreasing the environmental and economic impact.
Master of Agricultural Science student Ms Justina Serrano was awarded the Sir Eric Smart Scholarship for Agricultural Research in 2019 to conduct the research.
Ms Serrano said annual ryegrass is a costly and problematic weed as it competes with wheat at the early stages of growth, emerges in various flushes, and produces a high number of seeds under ideal conditions.
"Annual ryegrass can decrease wheat yield by up to 50%, and with more populations becoming herbicide resistant, it is extremely important to identify new technologies and techniques which can help reduce this problem and decrease whole paddock spraying," Ms Serrano said.
"The primary aim was to work on new strategies to maximise the timing and effectiveness of herbicide applications in the early season period to reduce the cost of pre- and post-emergent applications."
Images were captured using a RPAS equipped with a visible-spectrum and multispectral sensor flown at varying heights above ground level in both the glasshouse and in the field. The findings showed limitations of RPAS imagery to detect early-stages of annual ryegrass and practical limitations when scaling this method into broadacre cropping systems.
"Currently, ground-based systems with ultra-high spatial resolution cameras could be more effective at identifying ryegrass at the seedling and early tillering stages," Ms Serrano said.
"However, further research into RPAS would give a better integrated response to weed management in other stages of the weed and the crop."
Hackett Professor Kadambot Siddique, Director of The UWA Institute of Agriculture, said that Sir Eric Smart Scholarships had supported at least 21 UWA students to date.
"Sir Eric Smart was a pioneer who worked hard to increase agricultural production and sustainability," Professor Siddique said.
"The Sir Eric Smart Scholarship was bequeathed to UWA by Sir Eric Smart upon his death in 1973 and was further supplemented by a gift from his son Peter Smart.
"The Sir Eric Smart Scholarship encourages bright students to research ways of improving the productivity and profitability of agriculture here in Western Australia."
Ms Serrano's research was supervised by Associate Professor Kenneth Flower from UWA's School of Agriculture and Environment and Institute of Agriculture, Dr Nik Callow from the School of Earth and Environment and Institute of Agriculture, and Dr Michael Ashworth from UWA's School of Agriculture and Environment and Australian Herbicide Resistance Initiative.
Media references
Justina Serrano (UWA Master of Agricultural Science Student) 0452 355 147
Diana Boykett (Communications Officer, The UWA Institute of Agriculture) 08 6488 3756 / 0404 152 262
Tags
Channels

Awards and Prizes — Research — Science — Students

Groups

UWA Institute of Agriculture