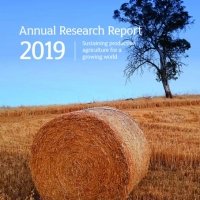 Tuesday, 7 July 2020
The University of Western Australia's Institute of Agriculture has released its Annual Research Report 2019 today.The report provides an overview of UWA's agricultural research, development, and training in regional, national, and international contexts, and is the thirteenth annual research report since the Institute was re-established in 2007.
Collaborative, multi-disciplinary and cross-faculty research activities continue across six research themes: Crops, Roots and Rhizosphere, Sustainable Grazing Systems, Water for Food Production, Food Quality and Human Health, Engineering Innovations for Food Production, and Agribusiness Ecosystems.
Institute Director Hackett Professor Kadambot Siddique said the role of The UWA Institute of Agriculture is to enhance UWA's contribution to agriculture and related areas.
"The Institute's vision is to provide research-based solutions to food and nutritional security, environmental sustainability and agribusiness," Professor Siddique said.
"The research and development featured in the Annual Research Report 2019 includes a wide range of topics, including the ecophysiology of grapevines, multispectral sensors for crop management, the gut microbiome of sheep, a newly formed Joint Venture for annual legume breeding, and the award-winning Weed Chipper."
The Institute also aims to effectively communicate agricultural research and training activities at UWA, and enhance engagement with industry, farmer groups, collaborators, funding bodies and alumni.
"Every year, the Institute hosts an annual Postgraduate Showcase and Industry Forum, as well as public lectures and various activities at the UWA Farm in Ridgefield," Professor Siddique said. "A major highlight from 2019 was the Institute's Industry Forum, which focused on social license in the agriculture industry."
For more information, download an electronic copy of The UWA Institute of Agriculture Annual Research Report 2019 .
Media references
Hackett Professor Kadambot Siddique (Director, The UWA Institute of Agriculture) 08 6488 7012 / 0411 155 396
Diana Boykett (Communications Officer, The UWA Institute of Agriculture) 08 6488 3756 / 0404 152 262
Tags
Channels

Research — Science

Groups

UWA Institute of Agriculture