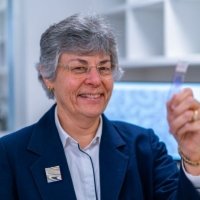 Friday, 26 June 2020
A research program pioneering the use of whole genome sequencing has diagnosed hundreds of patients with rare diseases and discovered new genetic causes of disease.
The international study, published today in Nature , included a researcher and haematologist from The University of Western Australia and PathWest.
The study focused on patients with rare disease in the UK National Health Service. Professor Wendy Erber, from UWA's Faculty of Health and Medical Sciences and a PathWest haematologist, provided key input through her analysis of the blood cells and blood count results.
Professor Erber's analysis, combined with sophisticated new bioinformatic computing tools and software developed specifically for the project, has provided ground-breaking insight into the genetic basis of rare diseases.
"This integrated approach was critical to the analysis and understanding of such large, complex and unique sets of biological data for patients with these rare conditions," Professor Erber said.
The researchers, led by the UK National Institute for Health Research BioResource and Genomics England, studied the entire genomes, or 3.2 billion DNA letters, of almost 10,000 patients with rare diseases that affect the blood, the immune system and other tissues.
They identified genetic changes causing some known rare diseases, and, described some completely new genetic diseases. Although individual rare diseases affect a very small proportion of the population, there are thousands of rare diseases and, together, they affect more than one million people in Australia.
The sophisticated analysis identified 95 genes very likely to cause rare diseases, including unexplained bleeding disorders and immune deficiency syndromes that lead to the inability of the body to fight infections.
"Study participants now know the cause of their clinical problems and finally have a confirmed diagnosis," Professor Erber said.
"Patients with these rare diseases can now receive the most appropriate treatment for their condition. This is already leading to improved patient care."
The genetic results from the research are now being translated into clinical practice and will be rolled out as a standard of care throughout the UK's National Health Service.
"This type of research is incredibly important to combat rare genetic diseases. I hope the findings will have an influence on the standard of care in Australia," Professor Erber said.
"The benefits will include quicker diagnosis for patients, improved understanding of the reasons they suffer from disease, improved provision of treatment and reduced costs for health services."
Media references
Professor Wendy Erber (UWA School of Biomedical Sciences) 08 6457 2325 / 0418 610 600
Nicholas Smith (UWA Media Officer) 08 6488 1888 / 0411 644 492
Tags
Channels

Media Statements — Regional — Research — Science — University News

Groups

School of Biological Sciences — Science Matters