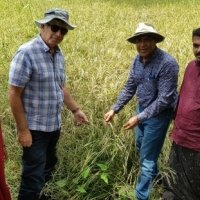 Friday, 26 June 2020
The contribution of local knowledge and intellectual property to agricultural innovation and food security has been examined in a book published this week by researchers from The University of Western Australia.
Local Knowledge, Intellectual Property and Agricultural Innovation published by Springer was compiled by Professor Michael Blakeney from UWA's Law School and Hackett Professor of Agriculture Kadambot Siddique, Director of The UWA Institute of Agriculture.
The book examines the role of local knowledge in promoting agricultural innovation, and legislative support for agricultural innovation through intellectual property laws and the protection of farmers' rights. It uses a case study approach to review farmers' local knowledge, government regulation and legislative support in Indonesia, India and Australia.
Co-editor Professor Michael Blakeney said to date the role of local knowledge and agricultural innovation has been almost entirely ignored, as has the role of intellectual property in this space.
"Implementing agricultural advances depends on appropriate legal instruments, enabling and recognising change, and local farmers' knowledge and understanding and adapting scientific knowledge," Professor Blakeney said.
"Topics examined in the book include intellectual property rights, particularly patents, plant variety rights and geographical indications in encouraging agricultural innovation.
"The concept of biopiracy, the judicial consideration of DNA patents in agriculture, and whether the open source approach can be taken to secure access to proprietary DNA and seeds is also discussed."
Hackett Professor Kadambot Siddique said the book appeals to readers interested in policies to promote sustainable agriculture at a time of increasing global food insecurity.
"The consistent policy approach to guarantee food security is to promote technological improvements in agriculture relevant to local environments," Hackett Professor Kadambot Siddique said.
"As smallholder farmers increasingly cultivate marginal lands that are particularly vulnerable to climate change, an important implication for food security is the contribution of these traditional farmers to conserving and identifying useful biological material for biotech innovations."
The book is a result of a research collaboration between UWA and Kerala Agricultural University, and was funded in part by an Australian Research Council Discovery Project grant (DP170100747) 'Food security and governance of local knowledge in agriculture in India and Indonesia'.
Media references
Professor Michael Blakeney (UWA Law School and The UWA Institute of Agriculture) 08 6488 3438/ 0418 191 669
Hackett Professor Kadambot Siddique (Director, The UWA Institute of Agriculture) 08 6488 7012 / 0411 155 396
Diana Boykett (Communications Officer, The UWA Institute of Agriculture)         08 6488 3756 / 0404 152 262
Tags
Channels

International — Research — Science

Groups

UWA Institute of Agriculture — UWA School of Agriculture and Environment