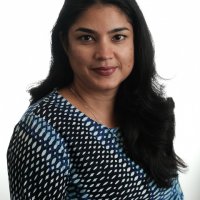 Wednesday, 24 June 2020
Tackling family and domestic violence among refugee communities
Support for men and its impact on FDV within a wider picture of successful or unsuccessful refugee integration
Andrea Creado, Ruth Buckmaster and Shalini Noronha
---
Andrea, Ruth and Shalini highlight the importance of targeted support for refugee men right from their arrival in Australia, as part of the broader settlement process, to prevent family and domestic violence from occurring in their communities.
One of the key findings of the ANROWS research Best Practice Principles for Interventions with Domestic and Family Violence Perpetrators from Refugee Backgrounds , shows family and domestic violence (FDV) issues for men from refugee backgrounds are uniquely connected to their refugee experience in relation to trauma and violence, their beliefs, values, norms and traditions, expectations for themselves and their community as well as how well (or not) they are supported in the settlement transition to Australia. If men were better supported in getting settled, through addressing their trauma with counselling or one-on-one buddying, being educated on healthy relationships and receiving upskilling and job preparation, there would perhaps be less FDV. The research findings support the positive effect one-on-one interactions/counselling has on the transition to group and/or community education.
As the findings point out, gender inequality sets the social context in which FDV is perpetrated and most people who perpetrate violence are men. In many refugee cultures, men are expected to financially provide for their families. When unable to do so, due to settlement barriers like language, education, lack of skills and dependence on government support like Centrelink payments usually paid to the wife and children, men may feel disenfranchised, which can express itself in anger and violence, especially if there has been a history of being exposed to violence in the past.
Case Study :
Mr Khan (this is an alias) Hazara Afghan man arrived in Australia as a Humanitarian entrant, along with his family. They fled ethnic persecution and in Australia they experience ongoing difficulties due to post- migration stress factors such as unemployment, limited English proficiency, discrimination, news reports of continuing violence in Afghanistan and anxiety for the safety of family members still in their home country.
Mr Khan is dealing with the inability to provide for his family, grappling with the financial dependency on government support paid to his wife and lack of education about the Australian Social Support system which results in friction within their relationship. As his wife becomes more aware of her rights, she realises what abusive behaviour is and seeks help for the same. Mr Khan requires support to understand why his behaviour is inappropriate and find solutions to rectify the same.
Mr Khan remains discouraged by his inability to provide for and protect his family, leading to feelings of shame and insecurity. In an attempt to regain power over his family, he attempts to exert control over his wife and children by resorting to abusive behaviour. He does not understand the social and legal systems that recognise the rights and welfare of women and children, which leave him feeling unsupported, resentful, full of self-doubt and frustrated, giving rise to the vicious cycle of abuse and control.
One way to understand the experiences of a refugee man could be through the lens of the psychosocial theory as proposed by Eric Erikson's life stages. Each of the eight stages of Erikson's psychosocial development model depends on the healthy resolution of the last stage. When a stage has been interrupted due to effects of war, trauma, life in a refugee camp, etc, stages may get passed over, leaving an adult refugee man feeling frustrated, angry and lacking hope. For example, instead of developing trust at the beginning of life because of the turmoil and violence in his life, country or refugee camp, he develops mistrust of people, government, law enforcement, etc. The other stages of development may have been passed over due to further disruptions owed to war, fleeing his country, injury, etc. So, when he arrives in Australia as a 40-year old man with a wife and children from a refugee camp having not developed trust, autonomy, initiative, industry, identity, intimacy and other core concepts, he looks up and notices he is ill equipped to support his family and the journey to healing, learning English and developing new skills. This could take many years, leaving him feeling that his life has passed him by and he is entering the generativity stage where he would normally be reflecting on his life to create a living legacy. This may create a crisis which manifests in blaming those closest to him, i.e. his wife and children, which, if unsupported or without someone to turn to (in the absence of fathers, uncles, grandfathers as may have been available to him in his home country), can lead to FDV.  Add to this the challenges refugee men and their partners face on a day-to-day basis of navigating every aspect of daily life and the cultural differences in relation to parenting, belief systems, values, norms, religion, technology, discrimination.
Men require tailored and intentional support on arrival in Australia. Better support at the beginning would ameliorate the stress of settlement resulting in better outcomes at professional and personal levels. This support could come from well-settled people within their own culture and from any other Australians who have been well informed on the wide-ranging issues affecting refugees.
Buddying and mentoring programs could be established on arrival and continued through the entire settlement period for refugee men. Community education programs could be attended with the mentor/buddy on key issues affecting them, including relationship and communication workshops, information about FDV services and supports and how they work, responsibilities of being in the Australian community, and relevant local government services, etc. The purpose would be to bring understanding, friendship, meaning and community to refugee men. Building skills and craftsmanship could be available for men on arrival, just as the vast array of women's support groups provide wide-ranging information, educational and skill development workshops for women who, by attending these, enjoy the by-product of positive social interaction and friendship.
Humanitarian entrants and refugees have always played an important role in enriching the Australian community. We should understand and acknowledge their past and support them to adapt well in their new country. Understanding the phases of settlement better and ensuring there is positive support and education from the first contact into the country, through to prolonged support, can dramatically influence family relationships, resulting in better settlement outcomes for the entire family.
---
This piece was a combined effort of the Ishar team, Ruth Buckmaster, Social Worker Settlement Services; Shalini Noronha, Social Worker, FDV Services and Andrea Creado, CEO.
Links to relevant research:
https://www.simplypsychology.org/Erik-Erikson.html
https://www.verywellmind.com/theories-of-psychology-4157184
https://www.refugeeyouthempowerment.org.au/downloads/RefugeeYouthPsychosocialWellbeing.pdf
https://www.ucd.ie/mcri/resources/Dermot%20Ryan%20Reading.pdf
https://www.aph.gov.au/About_Parliament/Parliamentary_Departments/Parliamentary_Library/Publications_Archive/archive/settlement
Tags
Groups

UWA Public Policy Institute