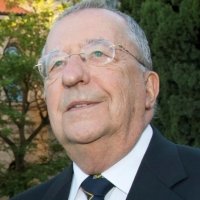 Wednesday, 17 June 2020
One of the first group of UWA graduates in Medicine in 1959, Clinical Professor Bryant Stokes AO, neurosurgeon, has not only used his specialised training to treat patients with neurological conditions with skill and compassion but has also made time to facilitate improvements in the level of healthcare available to the people of Western Australia.
Following graduation, Bryant worked initially at Royal Perth Hospital (RPH) and then took time off to study for his Part I of the Fellowship of the Royal Australasian College of Surgeons (RACS) and became a demonstrator and then lecturer in Anatomy at UWA.   Further study in Perth achieved the Part II examination, after which he went to Canada for further neurosurgical training. He had won two Hadley Travelling Scholarships; one from UWA and the other from the RACS. He returned in 1971 to become a Consultant at RPH, as well as joining Mr John Lekias in private practice. He rapidly became known for his skill in treating aneurysms arising on the arteries of the brain which had ruptured.
1965 – 1978 he served in the Royal Australian Airforce (Reserve) as Group Captain in Medicine.
When the first CT head scanner in Australia arrived at Sir Charles Gairdner Hospital in 1975, the non-invasive tool was eagerly taken up by all the neurological fraternity with improved outcomes. The same year Bryant went to Vietnam for the Australian Government to assist in the development of neurosurgical services before the end of the Vietnam War.
Many years passed before it was felt as W.A. was so isolated, it would be helpful if the medical profession could have courses instructing on the use of new instrumentation including simulators. Bryant assisted Richard Vaughan in the establishment of the Clinical Training and Evaluation Centre (CTEC) at UWA which was opened by Her Majesty Queen Elizabeth II in 2000. Since then 40,000 doctors have benefitted from the hands-on workshops conducted evenings and weekends.
In 2001 Bryant received the Member of the Order of Australia for his services to Medicine. That year he was Acting Commissioner of Health, at the same time as being Chief Medical Officer.
In 2010 Curtin University of Technology awarded him the degree of Honorary Doctor of Science.
He has established a scholarship for an indigenous student at Curtin Medical School
In 2012, the West Australian Government commissioned Bryant to examine public Mental Health Services. His work involved interviewing nearly 1000 individuals or their families where the outcome of insufficient support had resulted in suicide. The report titled the Stokes Review reported into admission, transfer and discharge practice.
Also in 2012, he was responsible for setting up a fund to build the Ralph and Patricia Sarich Institute of Neurosciences at QEII Medical Centre.
His wide interests included an appreciation of the Arts, so 8 years ago, 2012, he donated an annual prize to a student or a group of students from the five categories of the Convocation Matilda Award for Cultural Excellence (Music, Dance, Drama, Literature and Public speaking). This has helped students launch their careers in their chosen field when applying for other scholarships.
2014-2016 Bryant was Director General of Health. 1995 he was a Member of the first Australian Commission on Safety and Quality in Health Care. The Australian Government set up this Commission following a sentinel report in the New England Journal of Medicine which indicated the prevalence of harm suffered by some patients in the course of disease treatment.
In March 2016, Bryant was awarded the degree of Honorary Doctor of Medicine by UWA.
Bryant has been engaged in a wide range of activities to benefit the community. In his local church he served as Pastoral Assistant, he is a Member of Rotary and was a Trustee of the Perth Zoo.
In February 2019 he became Chair of 'Bicycles for Humanity WA', a not-for-profit organisation providing donated bicycles nationally and internationally to alleviate poverty through sustainable transport.
In 2020 in the Queen's Birthday honours he was awarded an AO (Officer of the Order of Australia).
Despite an amazingly busy life, Bryant found time to indulge in a hobby photographing landscapes.
This Graduate just keeps serving humanity.
Media references
Facts
• The membership of Convocation comprises all 130,000 graduates of UWA
• As a community and network of graduates, Convocation forms the electorate for elections of members to the UWA Senate and the Council of Convocation
• Further information on Convocation is available at www.convocation.uwa.edu.au
Tags
Channels

Alumni — International — Regional — Research — Science — Teaching and Learning

Groups

Convocation Conversations