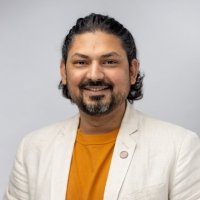 Wednesday, 17 June 2020
COVID-19: Indigenous perspectives
COVID-19: The need to boost digital literacy in Indigenous communities
Nilesh Makwana
---
Nilesh Makwana explains how the coronavirus pandemic is perpetuating the digital divide between First Nation peoples and the rest of Australia and what needs to be done to close it.
COVID-19 has highlighted that our 'land of the fair go' actually has a long way to go.
Amid enforced COVID-19 social distancing, isolation and lockdown restrictions, the digital world has very much been a lifeline to the 'real world' for many Australians.
From receiving vital COVID-19 information via mobile phone apps and accessing the internet to book the delivery of essential goods to enabling working from home or continuing schooling with online remote learning, never before has our reliance on technology been so apparent.
But not all Australians have had equal opportunity to harness this power of digital connection.
In some remote Aboriginal communities, just six per cent of residents have a computer and as few as two per cent have internet connection .
While mobile phone use is slightly higher, with 43 per cent of Aboriginal and Torres Strait Islander people in remote communities owning a smartphone , these statistics are still significantly lower than the rest of Australia's population.
Even more worrying is the fact that most of the country's real-time pandemic response communications have been facilitated online, either via the official Australian government WhatsApp channel for COVID-19, the Coronavirus Australia app and most recently the launch of the COVIDSafe app.
Without widespread access or technology know-how, COVID-19 has exacerbated the already existing digital literacy divide among our First Nation people.
And it's just the latest pandemic to disproportionately impact one of our country's most vulnerable populations.
How much wider must the gap get and how many more pandemics will it take before we set our public policy priorities straight?
Vulnerability during past pandemics
Historically, Indigenous communities have experienced higher disease infection rates than the rest of Australia's population time and time again, dating back to and caused by the earliest days of European colonisation.
Just 15 months after the first arrival of the First Fleet in 1789 smallpox spread throughout the Sydney area wiping out almost all of the Gadigal people, with historians estimating a 50 to 90 per cent death rate.
Two hundred years later, when the Spanish flu hit at the end of the First World War, Aboriginal communities reportedly recorded a mortality rate of 50 per cent , despite Australia's death rate of 2.7 per 1000 people overall being one of the lowest recorded of any country during this pandemic.
It's important to remember that these rates could in fact be a lot higher, considering it wasn't until 1967 that the Australian constitution was changed to allow for Aboriginal and Torres Strait Islanders to be included in the census .
The turn of a century didn't bring about much change: during the 2009 influenza pandemic (Swine Flu), one study focused on the Top End of the Northern Territory found that Indigenous Australians recorded higher hospitalisation rates than those reported elsewhere in Australia and overseas .
More puzzling is that, during my research looking for sources online, I found there was very little data available on how the First Nations people have been affected by past pandemics – even as recent as 2009.
Whether that's due to the research complexities surrounding the disproportionately remote setting of our First Nations people or otherwise, it's evident there is a serious disconnect.
Considering these communities are historically –- and still are – the most vulnerable to disease, with about 50 per cent of adult First Nations people living with major chronic diseases , it's alarming.
Technology could be the connecting platform, better yet, the best frontline of defence against future pandemics due to the potential of telehealth, instant distribution of health information and the ability to remain 'connected' to others and work while in isolation.
But COVID-19 has highlighted we've got a long way to go – and we have a chance to act now, before history repeats itself again.
How Indigenous communities have adapted to COVID-19
One in eight Indigenous people live in overcrowded housing, which poses a significant health risk given the highly contagious nature of coronavirus.
In response, without access to real-time infection data, many communities have since dispersed, heading out to the Australian bush to responsibly socially isolate – for example some families from the NSW town of Wilcannia have set up tent camps on the Darling River as a precautionary measure.
Compounded with this issue is the lack of access to vital health information in formats that are easily understood or culturally appropriate.
While the federal body, the National Indigenous Australians Agency, has developed some videos in different dialects in collaboration with First Nations leaders, distributing the information, other than through radio, to remote areas has been a challenge.
On top of this, without a means to access essential goods and services online, some remote communities have been especially hard done by coronavirus restrictions. For example, one community in Queensland was prevented from fishing for food and leaving to buy essential items under coronavirus restrictions that it later protested as 'discriminatory'.
While many of us have been able to comply with mandatory working from home thanks to the internet enabling our jobs to continue, most Aboriginals are employed in industries that require face-to-face interaction or in casual and low-skill jobs [PDF, 1.01MB].
This problem extends to the classroom, where some teachers have had to hand-deliver lessons to Aboriginal students whose family homes lack broadband connection.
Prioritising digital literacy to boost the use of technology could help reduce the impact of all these COVID-19-inflicted challenges.
Re-evaluating the Indigenous policy agenda
In the past, previous pandemic plans have not identified or included Aboriginal and Torres Strait Islander people as a priority population group .
Following the 2009 pandemic, research found that any infectious disease management must be developed in collaboration with members from Indigenous communities .
While there has been some input from First Nations elders in response to the coronavirus, we should take these COVID-19 challenges as examples of where future pandemic management efforts could be accelerated by leveraging technology.
The digital world lends itself to the mobile and remote settings of First Nations people - our Indigenous communities just need access to the right digital infrastructure and with guidance on how to access and understand the technology.
The government's digital literacy app Your Online Journey is a good start. Launched in February last year, the app targets Aboriginal and Torres Strait Islander adults who are not engaging online despite having access to the internet.
But this should also be paired with on-the-ground training with digital literacy sessions that go beyond how to use a smart phone and Facebook. Lessons on practical workplace applications, like the Microsoft suite of programs, could be integrated into traineeship programs for employment in high-skill jobs, or better yet, to become skilled tech entrepreneurs.
Through policy drivers and education, technology has the potential to hugely benefit these communities, during COVID-19 and beyond.
How much longer must we talk about "closing the gap"? Let's just do it - technology has the power to rapidly make a tangible difference.
We sing Advance Australia Fair, but do we really mean it?
In order to truly close the gap and advance Australia fair, boosting digital literacy among our First Nations people is paramount.
---
Nilesh Makwana is a social entrepreneur and ICT advocate. He is the CEO of Illuminance Solutions, a Microsoft Tech for Social Impact Gold Partner and Chair of West Tech Assemblage. He's created the digital literacy training program for the Aboriginal and Torres Strait Islander people in Australia in collaboration with WA universities, including UniHall, UWA and The University of Notre Dame Australia.
Tags
Groups

UWA Public Policy Institute