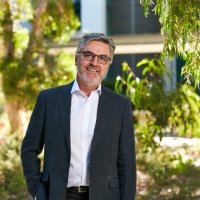 Monday, 8 June 2020
As life starts to return to normal but the threat of COVID-19 remains, Professor Jon Watson, Executive Dean of UWA's Faculty of Health and Medical Sciences, looks at how we balance what we want to do and what we think is important with the health risk to individuals and the State as a whole. His comments follow a spate of protests both locally and worldwide over inequality, human rights and democracy.

He warns that Australia cannot afford to become complacent and says big crowds still pose a significant risk and have the potential to cause "devastating" levels of virus spread.

In COVID pandemic times, can you protest safely and support an important cause without increasing the risk to your own individual health from COVID-19 or to the health and safety of the State as a whole? How can you do this?

We should all have the right to protest peacefully. However at present ,we know that there is still a risk from COVID, even though we have made great progress. I have seen some socially distanced protests which have worked well, but most protests tend to attract large crowds, and it then becomes difficult to observe appropriate physical distancing. So if the demonstration is likely to be more than 100 people, and particularly if you are in a vulnerable group (aged over 70, any other medical complaints), we would suggest that you stay away from demonstrations at present. It does not make sense for us to be gradually reducing the restrictions around the number of people who can go to a bar, or worship at a Church, or attend a wedding, and then not take these restrictions into account with any demonstrations.

Has WA been so effective at controlling the COVID-19 virus that protests locally are not a concern and will not increase the risk of COVID-19 spread?

The WA community has done a great job. We think that community transmission is certainly at a very low rate. However we are still mindful that one "super spreader" (a person who has no symptoms but is positive for the virus) could infect many people in a large crowd. Until we have a vaccine or an effective treatment, I would not advise crowds of more than 100 meet together.

If, as occurred in Perth, protestors respect social distancing requirements and stand 1.5m away from each other, is this enough protection against possible COVID-19 spread?

Yes, if people observe appropriate social distancing and hygiene requirements, that will provide protection. However we need to be mindful of the maximum limit for gatherings as recommended by the health advisers.

Does having hundreds or thousands of people together in a small area heightened the COVID-19 transmission risk, even if they are standing 1.5m apart?

The more people that are together, and the smaller the space they are in, the higher the risk. Also the risk of COVID-19 transmission seems to be higher indoors than out of doors. So we would suggest small groups if possible (100 or less), meeting outside.

Are there other activities - such as shouting or singing  - that can further increase the risk of COVID-19 spread? How exactly is risk increased?

Shouting and singing both increase the risk of COVID-19. That risk can be reduced if face masks are worn.

During recent Perth protests, we saw WA people wearing protective face masks on the streets. Should all protestors wear face masks and should face masks also be considered for wearing while on public transport?

Face mask usage is controversial, some medical experts recommend it and some do not. Certainly, if you are singing or shouting at a protest then it makes sense to wear a face mask. If you are on public transport or in a normal environment with appropriate physical distancing, a face mask is not required.

Are there any at-risk vulnerable groups in the community that should think twice about attending protests, as it is important for them to stay away from crowds during the pandemic?

Yes, we know that people over 70 years of age, or people with other medical problems like diabetes or heart disease are more likely to develop more severe COVID-19 disease if they are infected. Thus we would recommend that these at risk groups should stay away from protests at present, until a vaccine or effective treatment becomes available.
Media references
Simone Hewett (UWA Media & PR Manager) 08 6488 3229/0432 637 716
Tags
Channels

Media Statements — Research — University News