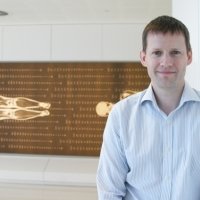 Thursday, 4 June 2020
A drug developed by The University of Western Australia's spinout company Dimerix will be used in a global trial to treat patients who have Acute Respiratory Distress Syndrome (ARDS) as a result of COVID-19.

The drug, known as DMX-200, was chosen as part of the Randomised, Embedded, Multifactorial Adaptive Platform trial for Community-Acquired Pneumonia (REMAP-CAP) program, which is endorsed by the World Health Organisation and designated a Pandemic Special Study.

REMAP-CAP is an international platform trial run by a network of leading experts, institutions, and research groups. The program is studying a number of interventions to treat people hospitalised with proven or suspected COVID-19, in ICU and non-ICU settings.

The overall REMAP-CAP study plans to include more than 7,000 patients from over 200 study sites across Asia-Pacific, Europe and North America.

It already has treatments in the anti-viral, immune-modulation and immunoglobulin sphere and biopharmaceutical company Dimerix is part of a new treatment group.

Professor Kevin Pfleger, Chief Scientific Advisor to Dimerix, welcomed the announcement.

"It has taken years of research and development to get DMX-200 to this point, and it will be worth every second if it can contribute to fighting the devastating effects of this virus," Professor Pfleger said.

Patients hospitalised with COVID-19 typically have acute lung dysfunction due to the human immune response to the virus. However, while the long-term effects on the lung from COVID-19 remain largely unknown, it is widely accepted that COVID-19 will result in acute injury in the same way as previous coronavirus infections such as SARS and MERS.
As such, it is likely to result in chronic lung fibrosis in many patients, leading to poor quality of life, high ongoing hospitalisation requirements and ultimately a poor prognosis.

Dimerix researchers have been working on DMX-200 as a renal therapy to reduce damage from inflammatory cells by blocking their signalling and limiting subsequent onset of fibrosis, a process that was discovered in Professor Pfleger's laboratory at the Harry Perkins Institute of Medical Research.

Based on the known effects in the lung of COVID-19, DMX-200 may also benefit ARDS patients with COVID-19 by reducing the inflammatory response in the lungs and thus reducing inflammation and subsequent fibrosis.
Dr Nina Webster, CEO and Managing Director of Dimerix said the company was extremely pleased to be in a position to support a global initiative investigating the potential of multiple therapies to treat COVID-19 patients dying of ARDS.

"Dimerix is uniquely positioned to support the global effort in identifying COVID-19 treatments, as well as having two Phase 2 renal clinical studies completing mid-2020," Dr Webster said.

Professor Pfleger is Director of Biomedical Innovation at UWA and the MTPConnect WA Life Sciences Innovation Hub, Head of Molecular Endocrinology and Pharmacology at the Harry Perkins Institute of Medical Research and Deputy Director Entrepreneurship of the Australian Research Council Centre for Personalised Therapeutics Technologies.
Media references
Simone Hewett (UWA Media and PR Manager)                               08 6488 3229 / 0432 637 716
Tags
Channels

International — Media Statements — Research — Science — University News

Groups

Faculty of Health and Medical Sciences