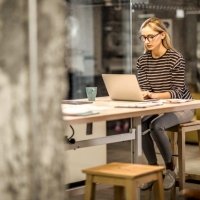 Thursday, 4 June 2020
In response to the challenges many Australians may face finding work in the coming months, The University of Western Australia has launched new online short courses that offer practical skills and experiences across a range of industries.

The University worked with the Federal Government to develop the UWA Plus short courses, focusing on skills currently in high demand by employers and industry.
There are no entry requirements so courses will be open to everyone and cover key fields of science, business and health. Students will have options to update their skill base or reskill for a workplace beyond the current COVID-19 crisis.

Designed to be more flexible, the new courses allow students to select what works best for them and can be completed in a few short months.

Starting on Monday 22 June, the six new courses for undergraduate certificates will cover data science, earth sciences, environmental sciences, health and fitness, biological sciences and business.

The undergraduate certificates, which allow students to pick up job-specific skills in just six months, can also provide a pathway and credit towards a UWA degree.

With data science skills in high demand, this course will offer students experience in Python programming, data modelling and database design, data exploration, analysis and visualisation. Students will also learn how data science is applied in various industry settings in science, business, medicine and the arts.

Career options for those equipped with data science skills could include change leader, business intelligence analyst, data analyst or business analyst.

The postgraduate certificates, which start on Friday 24 July, are suitable for those who already have an undergraduate degree or significant industry experience and are looking to extend their existing knowledge base or upskill in a specific area.

With subjects ranging from bioinformatics and data science to agricultural science and urban and regional planning, these courses can also provide credit towards a Master's degree from UWA.

UWA Vice-Chancellor Professor Jane den Hollander AO said the University had moved quickly to online learning and the introduction of short courses demonstrated how UWA was continuing to evolve by offering new pathways in an uncertain employment market.

"The University has worked with the Government to develop this new set of online short courses to meet student, employer and industry demand," Professor den Hollander said.

"The courses provide an easily accessible, job-focused and practical response to anticipated Australia-wide employment challenges caused by the current economic downturn."

The courses are subsidised by the Federal Government (excluding the Certificates in Business) and discounted by 50 per cent. Students may also be eligible for a HECS-HELP loan, which is repayable only when earnings reach a certain threshold.

Enrolments are now open for the six new undergraduate certificates short courses and 17 new postgraduate certificates.
Media references
Simone Hewett (UWA Media and PR Manager)                             08 6488 3229 / 0432 637 716
Tags
Channels

Media Statements — Science — Students — Teaching and Learning — University News

Groups

Faculty of Arts, Business, Law and Education — Faculty of Engineering and Mathematical Sciences — Faculty of Health and Medical Sciences — School of Biological Sciences — eBiz