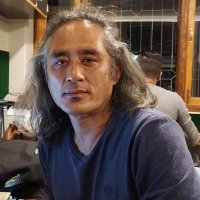 Thursday, 4 June 2020
Learning to smile from behind a mask
Pema Wangchuk
---
It is not easy to smile from behind a mask. But the present is an unprecedentedly confusing moment and situations requiring a smile rarely arrive making it a skill not necessary to be acquired in a hurry. But then again, it is safer to grimace from behind a mask because these are also disturbingly intolerant times.
Gangtok, the capital of the state of Sikkim in India, a tourist destination that many in India still confuse to be Bangkok's neighbor, is now prepping for the fourth installation of the nationwide lockdown that the Centre has decided as the country's defence in its war against the novel coronavirus.
Nearly five months since zoonosis was looked up in the dictionary by people in these parts, the zoonotic disease itself has not yet arrived in the state. Sikkim remains the only state in India to remain Covid-19 free. That does not, however, mean that it has not been infected by the virus because all symptoms (other than the ones that require hospitalisation) – mass paranoia, administrative confusion, general suspicion, proliferation of fake news and over-zealous enforcement of lockdown regulations – manifest aplenty.
It is one thing to embrace the lockdown and obsessively consume everything the improved net-connectivity has to offer, but to be a journalist with a local newspaper presents a whole different challenge.
Very early into the lockdown, an audio message went viral on the local WhatsApp vine. Suggesting that the recording was made by a nurse at the state hospital, this message whispered that a non-local had tested positive and had been admitted to the hospital.
These were still very early days into the pandemic and most people in Sikkim did not even know at the time that the state did not even have a testing facility. The earliest that test results could come back was three days at that time. Thankfully, this was ascertained quickly, and because newspaper readers had already started cancelling physical subscriptions, WhatsApp messages having also warned them that the virus stays for long on newsprint, the viral message was debunked on the newspaper's Facebook page.
Barely had this rumor played out than another message went viral, this one claiming that an Indian Army soldier posted along the border with the Tibetan Autonomous Region of China has tested positive for the virus. This one was more believable for most people because, after all, it was from a border with China and China was from where the virus had spread. Apart from the fact that Indian and Chinese forces rarely come within sneezing distance of each other, even the fact that Tibet, like Sikkim, perhaps still remains free of the virus as well, was lost on WhatsApp groups here.
These were still situations that one could laugh at, mocking the facility with which people can be fooled and the earnestness with which they will circulate obvious misinformation.
A lockdown, however, has this ability to suffocate the lighter side of things just as it can flesh out the worst in a society and its institutions. No one in office was smiling when word arrived late one night that a busload of Sikkim's scholarship students, picked from statewide competitions and sponsored to the best schools across the country, were chased away by villagers who did not want them housed in a government building repurposed as a quarantine facility. A combination of the ignorance and paranoia of the villagers and the failure of the administration to take people into confidence delivered a trauma that no child deserves.
Smiles at offices have been vanishing fast since then. Even though many laughed when they received the forwards, and many responded with "serves them right," none at the time realised Covid-19 cannot be baton-charged away.
Among the more popular posts on social 'media' were WhatsApp videos shot and shared by cops themselves showing them either beating up migrant workers 'breaking' the lockdown or publicly shaming and punishing local youth for being out without work when the nation wants them to be in lockdown to defeat the virus. No one bothered to tell the cops or the administrators that a lockdown, no matter how strongly enforced or how many editions of it are imposed, will not chase Covid-19 out of our country or Sikkim. Nearly two months into the "battle" and India has not even flattened the curve.
Smiles across the state eventually vanished when the Facebook page of our newspaper (which now has a respectable following) posted a video report of migrant workers stranded in Sikkim being told they could go to the border and get the required permits made there to continue their flight home.
Some 200 of them made it to the border, some walking the 70 kilometres from Gangtok to the interstate border checkpost, only to spend an entire day being ignored and then being told that the border had shut for the day and they should return home. They had neither the legs to walk back nor a home to go back to and found themselves herded away to a playground as night fell. After the video was shot and the administration contacted, a college building nearby was opened for them to spend the night.
It is not easy to smile when exposed to privations like this, even less so when some will still comment that migrant workers are better off in Sikkim than elsewhere in the country.
Occasions do still arrive to elicit a smile or even a giggle when one learns of how wildlife-invades-the-city excitement has infected Gangtok as well, only for diligent forest guards to discover that hysterical phone calls about a bear in the neighborhood was just a stranded cow with a weird moo.
Even these moments are short-lived because the next morning one arrives in town to find gangs of cops accosting people with ill-fitting face-masks, now mandated by law (the masks, not the ill-fitting bit), taking their photographs and collecting fines from them for their transgressions. Even before one could learn how to smile from under a mask, it has become easy to grimace from behind the security of one.
---
Pema Wangchuk Dorjee is a journalist based out of Gangtok, Sikkim. Currently consulting editor with Summit Times, a Gangtok-based English daily, has been reporting on Sikkim since 1994. He is the co-author of Khangchendzonga: Sacred Summit and co-editor of Birds have lost their way, a collection of essays Sikkim's experience with climate change and hydropower projects.
The opinions expressed in this publication are those of the author. They do not reflect the opinions or views of UWA of Aii.
Tags
Groups

UWA Public Policy Institute