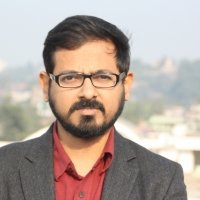 Thursday, 4 June 2020
During the lockdown India's poor fight a doubly difficult battle against COVID-19
Arijit Sen
---
Since 30-year-old Chandana, her husband, and 12-year-old son heard Indian prime minister Narendra Modi announce a 21-day (from March 25) nationwide lockdown – broadcast on national television – life has changed completely.
"My husband is a daily-wage labourer, a construction paint worker," Chandana says. "All his work has stopped. No work, No money. I know we are supposed to just stay at home for coronavirus and the government has requested our employers to pay our salaries in advance. But it's not so easy. I am scared that my salary will be deducted if I don't go to work."
Chandana works as a domestic help in the high-rise apartments adjacent to her slum in south Kolkata in eastern India. She is my neighbour. At least 2,000 families stay in this slum along the railway tracks. The numbers increase as one travels down the track beyond Dhakuria. This is where people hang their washed clothes.
The houses breathe down each other's necks. The labyrinthine lanes are so narrow that you can't pass another person without at least a faint touch. Further inside this maze, light hardly enters. There is no ventilation.
For the residents, it's life as they know it, in the darkness and the squalor, the open drains, dogs moving around; morning markets are set up along the tracks, with trains speeding past. There are accidents, and deaths too. In some corners, one toilet is used by a hundred people. In some others, by three hundred.
This is one of the better slums in the city. And someone or other constantly cleans the toilets with disinfectants.
Chandana gets a salary of 3,000 rupees (approximately AUD$61) from each of the three houses she works at. She is also a local union representative that fights for government-mandated salaries and other employment benefits, which are non-existent, as such, in her sector, which falls under the unorganised category. It's clearly an unequal fight.
"I start my day at the crack of dawn, at 5am. My day includes washing utensils and clothes, mopping floors and also cooking."
In the same boat as Chandana is Suchitra. She works as a cook in different apartments in south Calcutta. She is also my neighbour. She tells me that one of her employers has already called her and threatened to deduct her pay if she didn't go to work.
In Suchitra's 'house', there is hardly any room to move. It's a small space, divided into two compartments. A slightly elevated plank of wood splits the space into two parts. The plank also acts as the bed. Outside her door hangs a face mask. A pay-cut won't help.
"We wear these masks whenever we step out to buy groceries. We are scared and washing hands constantly. I have also picked up paracetamol tablets."
Social distancing is impossible here.
"We can't manage to stay inside our tiny houses. That's why we used to sit on the railway tracks. But not anymore. None of my employers for whom I do the cleaning work have paid me in advance," Debi, tells me.
Ever since some rumours of people getting affected from coronavirus has spread, the local administration is not taking a chance. Squatting on the tracks has been totally banned now.
"All of us feel claustrophobic but the fear is so real that we are trying to stay put inside our tiny houses and follow rules. Everyone has a mask on their face. All of us are trying to be more careful," says Suchitra.
According to Suchitra's neighbour, cycle-rickshaw-puller Hemanta, "I have no work and am surviving off the rice and daal given to us by the Trinamool Congress (local political party) workers. Same for the auto-rickshaw (tuk tuk) drivers."  In the same slum, Sishupal Naskar, a rickshaw-puller, has also been grounded. He used to earn around 10,000 rupees or 1357 NKR a month. Not a single customer now.
This slum sums up the story of poor people in the wake of the COVID-19 lockdown across India – a country of 1.3 billion people. According to India's 2011 census, one in every six people in India lives in unsanitary slums. India's Economic Survey 2018-2019 says that 93 per cent of India's workforce is informal. This includes Suchitra, Chandana, Hemanta, Sishupal, Debi, their families, their neighbours. With a thin, almost non-existent net of social security that surrounds them, COVID-19, and the sudden lockdown, these people have had the little they had taken away from them, almost.
The lockdown could well be a death knell for poor people. According to the National Campaign Against Torture, 27 people died in lockdown-related deaths in the first week – from March 25 to 31. So far, India has officially confirmed 67,152 COVID-19 cases, with 2,206 deaths until May 11.
Over the past few days, India has also witnessed thousands of poor migrant workers leave the cities where they work. With no money for food or rent, and transport shut down, migrant workers have been left stranded. They have left cities and walked anything between 100 and even 1000 kilometres to go back home.
Without food, water, money, one can imagine how terrible their journeys have been. According to Amnesty International, "India's nationwide lockdown has left millions stranded, struggling to search for food and water. Unfortunately for these people, a state machinery has become a larger threat than the COVID-19 pandemic."
A public interest petition has been filed in India's Supreme Court by advocate Prashant Bhushan on behalf of social activists Harsh Mander and Anjali Bhardwaj. It seeks immediate payment to all categories of migrant workers. The petitioners state that the onus of keeping a record of migrant workers is on the government and if they have not done so, they should rectify such an error. Post which, the wages should be released, it says.
In a recent article written in The Hindu , Magsaysay Award winner Aruna Roy and Nikhil De of Mazdoor Kishan Shakti Sangathan criticise a Ministry of Home Affairs order – made on March 29 – to stop the home-bound migrant workers and quarantine them for 14 days. "We must reduce our inequalities and persevere in this together," they write.
On March 26, the Indian government announced a relief package of USD22.5 billion to help migrant workers, urban and rural poor. Four days after the announcement, in Uttar Pradesh, India's most populous state, migrants were made to squat with their bags strapped to their backs and then sodium hypochlorite solution unsafe for humans was sprayed on them. The idea apparently was to disinfect them before allowing them to enter the town. Dehumanising steps like this will only make it difficult for India to fight the pandemic.
Back in Kolkata, crammed in the slums of Dhakuria – my neighbourhood – the women, men and children remain hooked on to the television news at night. They watch the stories of vulnerable poor migrants walking, dying, walking in the hope of getting home. In their tiny homes in Dhakuria, they can only hope that this nightmare will get over soon.
"I don't know. But my neighbour who reads the newspaper told me that don't worry this will take time but it will get over. My husband also told me that come what may, we have to fight," says Suchitra.
---
Arijit Sen is an independent journalist based out of Kolkata, India.
The opinions expressed in this publication are those of the author. They do not reflect the opinions or views of UWA of Aii.
Tags
Groups

UWA Public Policy Institute