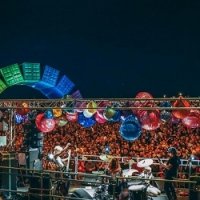 Wednesday, 3 June 2020
Perth Festival is an annual boost to Western Australia's social wellbeing, economy and hospitality industry, a new report reveals.
This year's Festival attracted new audiences and extended its vital role in assisting local artists, workers and companies, the Perth Festival 2020 Impact Report shows.
Founded in 1953 by The University of Western Australia, Perth Festival is the longest running international arts festival in Australia and Western Australia's premier cultural event.
Based on extensive Festival participant surveys and financial data, the 2020 report demonstrates the Festival's significant public value and its capacity to help kick-start community confidence in the State's post-pandemic recovery.
Like so many sectors, our State's arts and culture industry has been hit hard by the COVID-19 shutdown. Artists, venues, workers and companies have endured severe job losses, show cancellations and crippled income streams since March.
Perth Festival is well placed, as a ready-made cultural stimulus package, to help re-invigorate our State's vital arts sector for the benefit of the entire WA community.
Festival 2020 – the first of four under Artistic Director Iain Grandage – was a success on every social, cultural, civic, economic and tourism measure assessed by analysts Culture Counts.
Survey respondents rated the Festival an outstanding platform for Indigenous culture, authentic local stories and exciting collaborations between WA and international artists. Many respondents said the Festival enhanced social harmony, made them feel proud of Perth and better connected to their community.
The Festival's direct economic impact from spending by audiences, artists and the Festival was $30.3 million, up 60% from 2019. This provided flow-on total economic value to the State of $84.7 million.
Of the 144,850 people at Highway to Hell, 42% of them were attending their first Festival event. The 10km-long Canning Highway community Bon-fest doubled trade for local businesses, made a direct economic impact of $6.1 million and had a flow-on economic benefit to the tune of $17.2 million.
Total tourism expenditure was $11 million (up 8% from 2019) and 28% of the 3,978 interstate and overseas visitors said the Festival was the main reason they had come to Perth at all.
Celebrating 67 years as Australia's longest-running annual curated arts event, Perth Festival's success in tandem with Fringe World proudly confirms Perth as one of the world's great festival cities.
Media references
Stephen Bevis (Perth Festival Communications Manager) 6488 8618
Jess Reid (UWA Media and PR Adviser) 08 6488 6876
Tags
Channels

Arts and Culture — Media Statements — University News