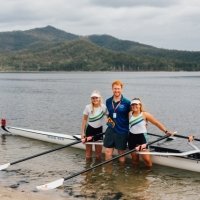 Wednesday, 27 May 2020
Despite passing the 100 year milestone, UWA Boat Club have shown they are still able to adapt to combat the latest challenges.
COVID 19 concerns have spoiled plans for sporting events, but athletes and coaches remain motivated to train, ready for when the club reopens.
"Our coaches have created training programs to cater to differing fitness levels and abilities," says the club.
Alternative training plans are also offered to ensure that all members are included; the club allows the hiring of club-owned rowing-machines.
Normally after training sessions, the squad would attend a local cafe for team bonding, continuing that tradition the squad eat breakfast together over Zoom.
The Zoom calls allows members to stay updated and keep the inclusive club culture alive.
"Social distancing does not mean complete isolation. Conversations keep the mind active, and is just as important as physical exercise".
Additionally, to motivate members the club's vice-captains have organised weekly strength and fitness based challenges, in keeping of the competitive nature of the sport.
The club looks forward to the prospect of returning back to normal and anticipates the sporting competitions to come.
Media references
Lisa Yang
UWA Sport Marketing Graduate Officer
6488 2886
Tags
Channels

Sport

Groups

UWA Sport