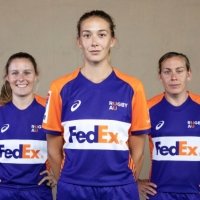 Monday, 25 May 2020
Adding to her already impressive list of accolades, rugby union referee Tyler Miller has been honoured with the UniSport 2019 Official of the Year.
The award recognises Miller's outstanding achievements and performances in Australian and International sport.
The UWA Student Athlete now progresses to the second ranked Australian referee and sits comfortably in the top 15 worldwide.
Miller was also nominated for the 2019 WA Sports Star Award after becoming the first West Australian official at the Women's 7s World Series and the first female assistant referee at a senior male level game, making her debut at the 2019 World Series 15s.
Turning passion into profession, Miller is now one step closer to reaching her ultimate ambitions of refereeing at the Olympics and the Rugby World Cup.
Media references
Lisa Yang
UWA Sport Marketing Graduate Officer
6488 2286
Tags
Channels

Sport

Groups

UWA Sport