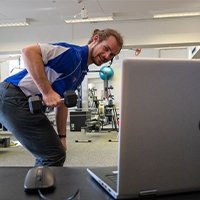 Monday, 25 May 2020
In response to physical distancing requirements imposed as a result of the COVID-19 pandemic, exercise physiology students from The University of Western Australia are now offering exercise fitness and rehabilitation consultations to the local community using online telehealth.
Director of UWA's Exercise and Performance Centre Dr Bonnie Furzer said the switch to a telehealth consultation model allowed Master of Clinical Exercise Physiology students to continue completing their required clinical training and placement.
"Following the introduction of physical distancing measures, we started looking at ways we could adapt our face-to-face services and enable us to continue assisting members of the community with their exercise needs," Dr Furzer said.
"The current climate has provided a new and exciting opportunity for UWA students to upskill and explore different ways to support the health of our community using exercise, especially during this challenging time."
UWA postgraduate exercise physiology students usually undertake face-to-face placement hours at the University's Exercise and Performance Centre under the supervision of accredited exercise physiologists and physiotherapists.
The centre offers exercise and rehabilitation services that focus on the prevention and management of chronic disease, covering osteoporosis, osteoarthritis, cardiovascular disease, cancer and mental health.
"Telehealth has been around for a long time, however it hasn't been a standard education and training pathway as face-to-face placements and learning opportunities have been the focus," Dr Furzer said.
"The disruption to our course delivery following the move to telehealth consultation has been minimal with UWA students displaying an amazing attitude towards learning the new technology and transferring their skill set across to such a novel delivery method."
Dr Furzer believes it's important to continue supporting the health and wellbeing of people with chronic diseases, despite the challenging times.
"I think the current situation has rapidly accelerated the idea of online digital telehealth and I think it has really opened the door to future initiatives that we haven't necessarily explored yet," Dr Furzer said.
Further information about the program is available at the UWA Exercise and Performance Centre website.
Media references
Dr Bonnie Furzer (Director, UWA Exercise and Performance Centre)
Nicholas Smith (UWA Media Officer) 08 6488 1888 / 0411 644 492
Tags
Channels

Media Statements — Sport — Students — Teaching and Learning — University News