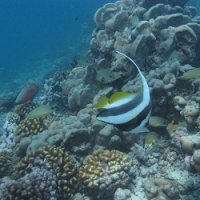 Thursday, 21 May 2020
A new study from The University of Western Australia has revealed clear evidence highlighting the importance of fish biodiversity to the health of tropical coral reef ecosystems.
This is the case for reefs that are pristine and also those that have been affected by stresses, such as bleaching events caused by warming oceans.
However, the study published in Nature Ecology and Evolution , showed that even though strong relationships between diversity and a healthy ecosystem persist, human-driven pressures of warming oceans and invasive species still diminish ecosystems in various ways.
A team of researchers from UWA and Lancaster University in the United Kingdom conducted surveys on coral reefs around 10 islands in the remote Chagos Archipelago – the largest uninhabited and unfished coral reef area in the Indian Ocean.
Their surveys counted the number of different fish species on reefs as a measure of biodiversity. They also measured how well an ecosystem was functioning relative to fish biodiversity at different islands using two key indicators – the number of fish living on a reef, measured as fish biomass, and the rate at which this biomass is produced.
The researchers also looked at coral reefs experiencing a reduction in nutrients caused by invasive rats on nearby islands.
The rats, which arrived with people on boats decades ago, decimate wild bird populations, resulting in fewer droppings. These bird droppings act as fertiliser for the reefs when washed off into the sea, increasing fish growth rates and the number of fish on a reef.
The researchers found that the coral reefs near islands with rats, and therefore with fewer seabird nutrients washing off to reefs, experienced lower fish biomass.
This shows that even when maintaining biodiversity, coral reef ecosystems are still vulnerable to human-caused stressors.
Dr Shaun Wilson from UWA's Oceans Graduate School and the WA Department of Biodiversity, Conservation and Attractions, said protecting fish biodiversity was a key factor in improving the survival chances of coral reef ecosystems facing rapid environmental change. "One on of the most interesting aspects of the work is that key ecosystem processes, like productivity of fish, is directly linked to biodiversity," Dr Wilson said.
"Although the nature of this relationship is affected by climate and introduced pests, the connection manages to persist."
Media references
Simone Hewett (UWA Media and PR Manager)                      08 6488 3229 / 0432 637 716
Tags
Channels

International — Media Statements — Regional — Research — Science — University News

Groups

Oceans Institute — Science Matters