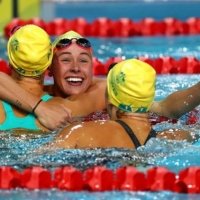 Tuesday, 19 May 2020
The 2020 Westpac Swimmer of the Year Awards were recently announced, and the UWA West Coast Swim Club celebrates yet another remarkable season.
In a change to the awards ceremony in times of social distancing, the awards were announced via Swimming WA's social media platforms and website beginning Monday 11 May and culminating with the announcement of the Lyn McClements Swimmer of the Year Medal on Friday 15 May.
Brianna Throssell headlined the list of winners, claiming her fourth Lyn McClements Swimmer of the Year Award, a feat putting her in front of Eamon Sullivan and making her the most successful Western Australian swimmer.
Throssell's stellar season of numerous wins and new world records also helped secure her seventh Roy Hammond Trophy and the Hancock Prospecting Patron's Trophy.
Promising up-and-comer Josh Edwards-Smith continued to smash records, winning his third consecutive Age Swimmer of the Year award and the Jack Howson Trophy.
Ashton Brinkworth and Lucinda Foley received the Hicks Ive Trophy and the Max Gerber Multi Class Championship Trophy respectively, for their outstanding results at the Hancock Prospecting Championships.
Both Sasha Bell and Teegan Watson were presented with the Swimming WA Life Members' Trophy, an award given to the most consistent able-bodied performer at the Hancock Prospecting WA Long Course Swimming Championships.
The Jennifer Reilly Trophy was given to Matt Lamb for being the most consistent performer at the SunSmart State Age Long Course Swimming Champions
UWA West Coast Swim Club also won the Peter Evans & Neil Brooks Cup, Metropolitan Long Course Club Shield and Metropolitan Short Course Club Shield.
Congratulations to the UWA West Coast Swim Club and all award winners for an outstanding 2019/20 season.
Media references
Lisa Yang
UWA Sport Marketing Graduate Officer
6488 2286
Tags
Channels

Sport

Groups

UWA Sport