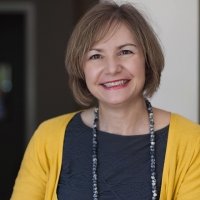 Wednesday, 13 May 2020
COVID-19: Protecting the vulnerable
Supporting social connection and physical distancing: The importance of digital citizenship for older people
Professor Loretta Baldassar
---
Older people are at greater risk of the complications associated with the COVID-19 and, as a result, they are being urged to strictly adhere to social distancing regulations. However, this brings with it a number of challenges that impact older people's wellbeing, in particular their need to stay socially connected while remaining physically safe.
Since older adults in residential aged care facilities are especially vulnerable to COVID-19, the Federal Government has encouraged aged care providers to limit or suspend existing visiting programs and enforce 'lock-down' measures to ensure patients, residents, staff and visitors remain safe and well. Although necessary to control the spread of the pandemic and protect the most vulnerable, this can create additional anxiety for residents, families and staff.
Ageing, social isolation and loneliness
Older people are already at risk of isolation and loneliness, especially those who do not have family members who can support them, those with limited English language ability and those who experience cultural barriers. As people age, their support networks often shrink as they become less mobile and active in community life, and as their families move away for work.
A lack of social support, isolation and loneliness not only affect mental health, with a higher risk of depression and anxiety , but have also been identified as risk factors for coronary heart disease, stroke and autoimmune and neurocognitive problems). Service providers often struggle to meet the social support needs of older adults, in particular in residential care [PDF, 3.5MB] and in rural and remote areas.
Residents in care facilities and long-term hospital stays tend to be lonelier than community-dwelling older people, even though they are often surrounded by other residents and carers). This is likely to be exacerbated during the pandemic, exacting a critical emotional toll on residents, their families and staff.
Digital literacy and older people
An important way to combat isolation and loneliness, especially during the COVID-19 pandemic, is through virtual connection. Research shows that increased digital literacy and technology use predicts lower levels of loneliness, and better mental and physical health. Other positive effects of online engagement include opportunities for gaining new friends, self-expression or learning, including accessing content important for cultural and social identity and sense of belonging and community.
However, there are barriers to effective use of technologies for older adults. The Australian Human Rights Commission has identified that older people's lack of confidence to engage with the internet at a high level limits their 'full inclusion' in accessing mainstream information, making independent decisions about their lives, maintaining social connections for wellbeing, and making informed decisions about health and their environment.
The social and economic consequences of the relative disadvantage experienced by older Australians in using the internet led former Age Discrimination Commissioner Susan Ryan to characterise this disadvantage as a form of age discrimination .
While internet use by Australians over the age of 65 has grown rapidly [PDF, 4.6MB] over the past two decades, from just 6 per cent in 2001 to 79 per cent in 2015, a number of critical issues continue to impact their digital citizenship. Older Australians are less digitally connected than other age cohorts and even those with an internet connection may not be sufficiently competent to be able to access information or do internet transactions.
Approximately 34 per cent of Australians over 50 years of age (2.7 million people) either have low digital literacy levels or do not use digital devices or the internet. Of those aged over 70 years, 57 per cent have low to no digital literacy and 74 per cent are digitally disengaged [PDF, 3.6MB].
In 2019, the Australian Digital Inclusion Index (ADII) reported an overall improvement in access, affordability and digital ability [PDF, 1.64MB]. While the digital divide between younger and older Australians grew steadily until 2018, older people are still falling behind in their capacity to access and make use of the internet. This is particularly the case for vulnerable groups, including indigenous communities, older women, people on lower incomes and those not living in a major city.
Where older Australians live is an important determining factor, as many regional, rural or remote locations do not have the digital infrastructure to ensure access [PDF, 2.1MB] to the internet equal to that of metropolitan centres.
Barriers to digital literacy
The Australian Government defines Digital Citizenship as "confident and positive engagement with digital technology; A digital citizen is a person with the skills and knowledge to effectively use digital technologies to participate in society, communicate with others and create and consume digital content". Digital literacy can be defined as the skills, knowledge and understanding required to use technology and new media.
One of the biggest barriers to digital citizenship for older people is attitudinal and the often implicit ageist assumptions about the relevance of technology to this age group. In our research developing digital literacy programs for older adults at the UWA Social Care and Social Ageing Living Lab , participants will often say things like, "I am too old to learn", or "technology is not for old people".
In addition, family, carers and service providers express similar sentiments and can be the biggest gatekeepers in their efforts to 'protect' older people from technology. And yet, these responses often indicate a lack of awareness about the potential role and transformative capacity of digital access for older people.
A related critical factor to attitude to technology, is the motivation to use it. Rather than asking, 'would you like to learn how to use digital technologies?', asking instead, 'would you like to learn how to stay more connected to your grandchildren?' provides both an explanation of the value and a rational for digital engagement. And ageist approaches to ageing and technology run deep—who amongst us is not guilty of giving our older relatives our out-of-date and glitchy digital device hand-me-downs which further hamper their ability to learn.
Recent research shows that using social technology improves users' attitudes towards technology, challenging the assumption that reluctant technology users lack the ability or motivation to use and learn about technology. To the contrary, users quickly realise that technology makes communication easier and saves time.
This said, facilitating effective digital connectivity for older people is not easy, particularly for those in residential care settings, with detailed implementation work required to address the known barriers to effective uptake of technological approaches. In particular, our research shows clearly that if technology use is not embedded in social relationships, it tends to not be used, or used ineffectively.
Older people want social relationships, not technology, so technology must be seen as a tool to facilitate social relations rather than a replacement. Furthermore, digital inclusivity for some people needs to be facilitated by others, and this is an opportunity for intergenerational engagement as young people can be recruited to set up and manage the digital access of older people.
There is much to learn from migrants in this regard, who are amongst the highest users of Information and Communication technologies in Australia.
Figure 1 Comparison of internet use among Australian and non-Australian born
Source: Roy Morgan Single Source Australia: July to December 2016 sample n = 24,853 Australians 14+ including 6,980 born overseas.
Migrants are particularly highly motivated to learn how to use digital and virtual ways of staying in touch with their loved ones overseas, including both the advantages and the pitfalls that virtual connectivity can bring. This is why we should really be talking about physical distancing and not social distancing during this pandemic; while we must remain physically distant from others, it is important to remain socially connected at the same time, for mental health and wellbeing.
Common practices that migrants use to care for their family and friends across distance include establishing a routine; setting a particular schedule, day and time, and mode of communication, helps everyone to not only stay in touch regularly, but to feel less anxious about whether they are doing enough to stay in touch. It can reduce feelings of guilt and pressure about how often we need to check in on each other ( check out our blog for more tips ).
Our 'digital by default' world and the current pandemic
The directive to socially distance and socially isolate has affected older people's ability to meet their basic needs. In the early stages of the pandemic, older people faced significant challenges around accessing food and basic supplies. The Federal Government responded swiftly by working alongside grocery suppliers to ensure dedicated shopping times for older people and priority access to online and telephone shopping.
Whilst this came into effect relatively quickly, some older people nevertheless faced a number of challenges. Many older people struggle to access online shopping portals and navigate the food delivery system.
The Federal Government has also established the Home Medicine Service which enables older people to have their prescription medicines delivered to the home from their pharmacy via Australia Post. For those unable to access these services, My Aged Care (the Australian government's aged care portal) offers a dial-in service to link older people with relevant support services.
Furthermore, Council on the Ageing has identified that some older people are unable to pay for goods and services online or over the phone since they do not have debit/credit cards nor the capability to do online banking transactions. To address this, Australian banks have begun issuing debit cards to assist with purchases during the pandemic. Research shows that many older people have serious safety and security concerns relating to cybercrime. It remains to be seen how effective this bank initiative is in assisting older people.
As health information and services are increasingly delivered online, including the vast majority of health information on COVID-19, as well as the national My Aged Care. The pandemic has thrown into sharp relief the danger of the digital divide that separates many Australians.
Many older people have neither the capacity nor the resources to be supported via the internet. They are not digital natives, many are at risk of being digital outcasts and this makes them especially vulnerable during the pandemic.
At the same time, technological innovation – when developed as an intrinsic part of social relationships – is providing some of the most effective ways of meeting the challenges of ageing, in particular around isolation, loneliness and appropriate services. This is clearly pertinent to the current pandemic, when people need to stay socially connected using digital tools. Co-designing technological solutions with older people, their families and carers that facilitate the digital literacy of older people is critical, both now and into the future.
---
Loretta Baldassar is Professor in the Discipline Group of Anthropology and Sociology at The University of Western Australia and Director of the recently launched UWA Social Care and Social Ageing Living Lab .
Loretta wishes to thank Dr Lukasz Krzyzowski and Dr Mariana Atkins for their valuable contributions to this piece.
Tags
Groups

UWA Public Policy Institute