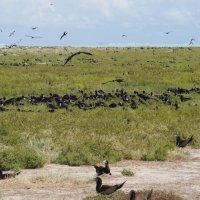 Tuesday, 12 May 2020
On a satellite photo, the Ashmore Reef Marine Park is no more than a tiny teal dot in the middle of the Timor Sea about 630 km north of Broome, perching on the edge of Australia's continental shelf. But this small and isolated tropical reef and its three islands form a sanctuary for an abundance of marine and terrestrial life within its boundaries.
A project led by the CSIRO in 2019, sought to assess the unique terrestrial and marine environment at Ashmore Reef Marine Park, in particular the status and trend of key species and habitats, in order to inform future monitoring and management of this complex and fragile ecosystem.

The teams included UWA researchers Dr Belinda Cannell (Research Fellow) and Dr Chris Surman (Halfmoon Biosciences, subcontracted to UWA) on Terrestrialsurveys, and Dr Ylva Olsen (Adjunct Research Fellow) on Marinesurveys.
This multi-skilled team surveyed the marine and terrestrial flora and fauna on and around the three islands of the reefs, including the plethora of bird species which flock to nest on the islands, the native flora on the islands, and the diverse and thriving sea life beneath the waves. In such a complex system there are certainly a few mysteries to be solved.
One area of research is focused on surveying and managing invasive species in the area. Species such as predatory fire ants can pose a large threat to seabird chicks and sea turtle hatchlings, while others such as buffel grass can threaten native plants and the nesting habitats of seabirds.
Dr. Belinda Cannell, who conducted the seabird and shore bird surveys, said of the opportunity, "This project gave me the opportunity to work on some seabird species that were novel to me, to develop some new research skills, while working in an amazing place with a great team of people."
Dr Cannell used imagery from drones alongside more traditional survey equipment such as binoculars, spotting scopes, and cameras, to survey a vast number of bird species on the islands. The results from this work have helped to build a profile of bird populations and migratory movements.
"From a bird perspective, internationally significant numbers of seabirds (some numbering in their tens of thousands) and shorebirds use the islands and cays within the Ashmore Reef Marine Park," explains Dr Cannell. "A total of 15 seabird species and four heron species breed within the marine park. It is also an important wintering site for migratory shorebirds, with more than 30 species observed there. Some of these migratory species fly from Siberia, spending the Northern Hemisphere winter in the Park."
The marine surveys conducted by team members from the CSIRO also used new technologies to help collect as much data as non-invasively as possible. By filtering eDNA from the Reef's waters they were able to identify species from the genetic remnants they shed. This can be done for all creatures, from invertebrates to vertebrates, from shrimps to sharks.
The underwater surveys performed by snorkelling scientists have shown a vibrant and healthy coral reef with little to no sign of coral bleaching and plenty of bright colours. These surveys also include 'Manta Tows' in which a researcher is towed behind a boat and records rarely seen animals, such as dolphins, sharks, and sea snakes.
Whilst many populations are thriving within this ecosystem, some are struggling, including sea snakes. Historical data shows us that the waters surrounding the islands were once a hotspot for sea snakes with an estimated population of 40,000 from 13 species. But now the sea snakes are a rare sight with no apparent cause for their mysterious decline.
Managing such a remote location isn't without its own challenges and obstacles, with long travel times and difficulty in accessing sites. The teams investigating various aspects of the ecosystem also had to coordinate their movements over the landscape of each of the islands to ensure that the surveys were conducted without interference or inconvenience.
Dr Cannell tells us of the challenges she and the team faced.
"Getting to the Ashmore Reef Marine Park is approximately 34 hours steaming from Broome, while  two of the three islands within the Park can only be reached two hours on either side of high tide. It's a challenge to coordinate this access between three teams researching different aspects of the project- seabirds and shorebirds; invasive ants; and vegetation surveys."
With the team at the Ashmore Reef Marine Park working hard to unravel the mysteries of the reefs and survey the wildlife on and around the islands the rest of us get the honour of hearing all about this amazing place through their research. Dr Cannell hopes that this research can inspire all that hear of it.
"I hope that they get mesmerised by the beauty of the park, both on land and underwater. I hope they understand what an incredibly special area it is, and that we must all remember the fragility of these systems, potentially impacted by marine debris, oil spills, light pollution, climate change, overfishing and invasive species."
If you are feeling inspired and are interested in reading more about the Marine Park and the science going on there please follow these links to read the CSIRO's ECOS article and blog regarding the project.
Media references
Communications Officer (Oceans Institute)
Tags
Channels

Research

Groups

Oceans Institute