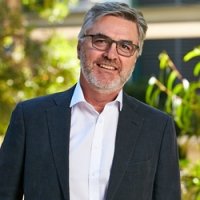 Tuesday, 12 May 2020
If we give in to our frustrations and ease up too quickly on COVID-19 restrictions - beyond what the Government advises is acceptable - then the highly infectious virus could get out of hand very quickly, warns Professor Jon Watson, Executive Dean of The University of Western Australia's Faculty of Health and Medical Sciences.

Even on our best behaviour, isolated COVID outbreaks are likely to occur, he says, with localised disease flare-ups possibly seeing entire neighbourhoods shut down for a short period.

"We have all been shut up for quite a long time, it is miserable and we all want to get out and see our friends," Professor Watson said.

"This is a very contagious disease and if it starts to spread again, despite all the hard work we have done over the past two or three months, we could go backwards rapidly.

"But if we continue on strictly within the guidelines, it's the best chance we have of going on to do the things we want to do in the future.

"WA is currently a very safe place to be, it's one of the safest places in the world. This has only been possible because the community has got on board and really done the right thing so far.

"Be prepared that this virus will be with us for a very long time and we need to continue to learn how to manage it.

"Because we have done so well, we have hardly had anyone in the country who has had the infection, which is a great thing but it means that if there is another outbreak there is no herd immunity."

On the road to recovery, Professor Watson says it is important to realise it will take a significant length of time before we can do some of the things we want to again - estimating it may be well into 2021 before we can return to overseas travel – and other things we may never resume doing.

"I think COVID-19 will change some things forever, even those simple interactions like blowing out a candle on a birthday cake or hugging friends."

Professor Watson has played a key advisory role in assisting Australia to "chart its way out" of strict social distancing and social isolation restrictions. He has worked with colleagues to represent UWA on the Group of Eight (Go8) Universities committee that put together a briefing paper for Chief Medical Officer Professor Brendan Murphy. The paper tackled the gradual easing of restrictions and return, as much as possible, to business as usual to get the economy back on track and address job loss.

"I completely understand that it is frustrating," he said. "But I would urge that the government guidelines be strictly followed and there be caution, particularly among the elderly and vulnerable groups, as we gradually emerge from the pandemic."

Professor Watson said a UWA asymptomatic testing trial being run in 40 WA schools would soon provide insight into how many people in the community might be carrying the COVID-19 virus and not know about it.
"If we do have a bit of an outbreak, one of the advantages of the approach in Australia over the past two months is that firstly the community is very used to areas being closed down – in terms of shops and restaurants and bars and so on," he said.
"We are also used to social distancing, so I think it will be less of a shock if there suddenly is an outbreak somewhere and the population health specialists say we need to close this area down and these people need to go into social isolation."
Hospitals had not stopped preparing for a second wave of the pandemic, said Professor Watson, which was crucial to ensure WA was properly protected.
"The hospitals stand ready if a wave hits either domestically or as we open up borders. The preparations are there and the management planning is there and if suddenly a breakout occurs, then the hospitals can revert very rapidly to that. We are very lucky to have an excellent health care system."
Compared to other equivalent countries around the world, Australia was far better off.
"However, this virus will be with us for a very long time," he said. "It will probably become endemic in the population – a bit like the common cold. And as we all know, colds come and go, particularly in winter months.

"As we develop vaccines and as we develop tablets that can treat this COVID-19 virus, if it does remain endemic that will be less of a problem for us. But this virus is with us and it is not going to go away. So that's why we need to learn to manage it now, with good hygiene practices and good social distancing and by working with the research scientists.

"My guess is – and it's too early to say – that we will get an effective treatment before we get an effective vaccine. It may then be that when we do eventually go overseas, we take a COVID tablet once a day and then stop taking it when we get back to Australia.

"We all would like to go on a holiday, to Bali or Europe or America or somewhere else, but I do not think that would be wise or prudent at the moment.

"I think domestic travel will be allowed much earlier  – hopefully within two or three months – and I think international travel in 2021 is probably more realistic."
Media references
Simone Hewett (UWA Media and PR Manager)                                                  08 6488 3229 / 0432 637 716
Tags
Channels

Media Statements — Research — University News

Groups

Faculty of Health and Medical Sciences — School of Medicine and Pharmacology