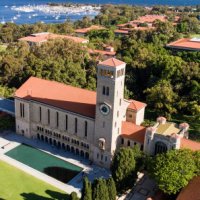 Tuesday, 5 May 2020
Dear UWA staff,
Today is University Mental Health Day in Australia and New Zealand. So much has happened in 2020, what with bushfires, pandemics and the state of the economy, it can be hard to focus on our mental health and wellbeing, but now more than ever it's important to practice a little self-care. There is support available to you through these challenging times, so please reach out if you need to.
In Western Australia, we've had six days in a row with no new COVID-19 cases – a promising sign. However, 'one swallow does not the summer make' as my mother always used to say, so stay cautious. There have been clusters of new COVID-19 cases in other States and that means we keep physical distancing and keep washing your hands!
In short:
Physical distancing requirements when using campus facilities
Employee Assistance Program (EAP) – extended services
Studiosity – free 24/7 study support for students
Physical distancing requirements when using campus facilities
We are continuing to follow State and Federal health and safety advice to ensure any return to campus is safe, coordinated and sustainable. While there are currently some researchers and limited numbers of staff (who are unable to work from home) on campus, it's time to begin planning for a return to campus over coming weeks. The protocols for doing this are being prepared nationally and locally and we should have these shortly. These will then inform our approach so keep watching this space – I know many of you are very keen to be back. Staff who are on campus must follow strict physical distancing and hygiene requirements, and comply with State and Federal health advice.
Teaching, exams and other assessments will continue to be delivered through online methods for the remainder of Semester 1 and more updates will follow as we progress to the end of the tuition period.
As exams draw nearer, increased numbers of students are using campus facilities, particularly the libraries. The 1.5m distancing is essential and being monitored. We will continue to provide hand sanitiser and keep the cleaning going just to be sure.
Employee Assistance Program (EAP) – extended services
All staff are entitled to six EAP appointments every 12 months. While the EAP is usually reserved for psychological support and counselling, over the next three months (until 20 July 2020), you can use three sessions of your EAP allocation for access to either Nutrition Support or Financial Support services. Learn more on the EAP webpage .
Coping with change and uncertainty: This online seminar, delivered by a psychologist from our EAP provider, will examine common reactions to change and support you in coming to terms with the current ambiguous and ever-changing context. It will also include practical strategies for stress management and mindfulness techniques.
Date: Tuesday 12 May, Time: 11.30am-12.30pm, Registrations: Eventbrite
Studiosity – free 24/7 study support for students
All students have access to Studiosity, which provides free personalised study help 24/7. Please remind your students they can get immediate study help and writing feedback at any time by accessing Studiosity through LMS.
Assistance includes:
Help from subject specialists (mathematics, statistics, economics, physics, assignment research and more)
Personalised feedback on written drafts in under 24 hours
Time seems to be flying and this week the value of science and the contribution of research has been in the news around the world. One famous quantum chemist, Angela Merkel the German Chancellor, was asked what politicians can learn from scientists and she said this: " Gravity - without mass [there is] no depth! ". As we head towards the end of semester it's good to be reminded that our research and the evidence and truth that result is the way forward to a better future.
Stay warm, stay dry and stay well.
Best,
Jane
Professor Jane den Hollander AO
Vice-Chancellor
Tags
Groups

UWA Forward