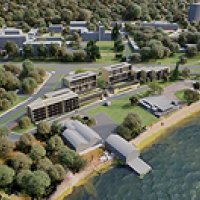 Monday, 4 May 2020
Forrest Hall (stage 2) is moving into construction phase on the main building, adjacent to the existing Forrest Hall.
JAXON has been awarded the construction contract and will mobilise to site on 6 May 2020.
What to expect
Traffic management procedures will be in place on the building site and at times along Hackett Drive.
Access to facilities on the foreshore will be maintained at all times although there will be no public or student parking on site.
Pedestrians will continue to have access to the UWA Watersports Complex, UWA Boat Shed and river foreshore, and for safety must follow designated pedestrian signage and pathways.
Onsite procedures for working hours, noise and dust will be in place.
The University will work to ensure disruptions are kept to a minimum with the works program designed to have the least possible impact on students, staff and our neighbours.
The new stage 2 building will be a similar size and complement the existing Forrest Hall development, and is expected to be completed in the third quarter, 2021.
For further information
Should you have any questions or concerns during the construction of the project, please contact Kate McLean, Project Manager, Campus Management.
For the latest information about the project, visit Campus Management website , or to learn more about the Forrest Research Foundation, visit forrestresearch.org.au
Tags
Groups

Campus Management