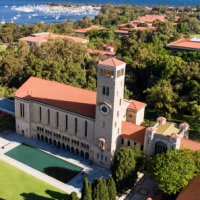 Friday, 1 May 2020
​​Dear UWA staff,
On Wednesday, we launched the Support our Students (SOS) – COVID-19 Emergency Appeal and, as of this morning, the appeal had raised $57,765 from 151 donors (with about half made up of UWA staff) which will assist with welfare packs, remote study technology support and emergency accommodation. And it's only been two days! We've also received offers of pro-bono advice and messages of support. The kindness and strength of our University community is once again shining through – so thank you for your donations and keep spreading the word in your social groups and communities.
In short:
Operational update
Update your email signature
Free online academic skills support for all students
UWA Medical Centre appointments
Operational update
We are continuing to follow State and Federal health and safety advice to ensure any return to campus is safe, coordinated and sustainable. While some researchers and limited numbers of staff whose jobs require it are working on campus, the majority of staff should continue to work from home at this stage.
Teaching, exams and other assessments will continue to be delivered through online methods for the remainder of Semester 1 and more updates will follow as we progress to the end of the tuition period.
Update your email signature
The WA Government has updated its COVID-19 regulations and, to match this, we've now updated our COVID-19 email signature. If you're already using the COVID-19 safety message in your email signature, the link to download the new signature, through Pheme log in, is: https://www.brand.uwa.edu.au/downloads/signature
Free online academic skills support for all students
All students can access expert academic skills support from UWA staff:
To help yourself to relevant, UWA-specific study advice and resources anytime, check out the STUDYSmarter website and Learning online .
UWA Medical Centre appointments
It's important not to ignore your health, especially in the current situation. The Medical Centre is a safe environment to attend appointments and is encouraging more telehealth consultations to support patient and staff safety. If you visit the Medical Centre for a face-to-face appointment, you'll notice fewer patients in the waiting room and social distancing processes in place.
The Australian Government is urging people with chronic health conditions to continue to see their general practitioner or specialist about the management of their conditions.
Appointments can be made for face-to-face, telephone or video consultations. More information is available on the Medical Centre webpage .
Well its Friday, it's sunny and so enjoy your weekend, and if you can, catch up with someone who makes you smile. I have been thinking about one of Bob Dylan's most famous songs - " The Times They Are A-Changin ". The lyrics of this song seem spot on (again) for now. We don't know what the world will be like post COVID-19 but it will probably be different.
How we choose to adapt to this new world must be part of our thinking over the next weeks and months. An interesting challenge and I look forward to the conversations with you, as well as the planning we need to do to adapt – politically, economically and socially. We need to be ready for the world when we get back into it. One thing we know, it will not wait for us to catch up.
Enjoy the sunshine while we have it.
Best,
Jane
Professor Jane den Hollander AO
Vice-Chancellor
Tags
Groups

UWA Forward