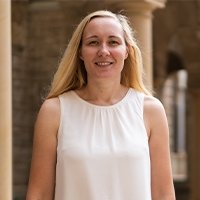 Thursday, 30 April 2020
A researcher from The University of Western Australia who is examining how a person's self-identity influences the way they lead others has been selected to present her research at the 2020 FameLab national final.
The science communication competition, broadcast online for the first time this year, invites viewers to watch Australia's brightest minds discuss their STEM-focused research in three minutes or less and vote for the favourite topic.
Dr Darja Kragt, from UWA's School of Psychological Science, is investigating how leaders develop thoughts about themselves and how the concept of self-identity shapes their behaviour which then influences their leadership capability.
"I feel nervous about presenting online this year, but this is a really great opportunity to talk more about my research and reach a broad national audience," Dr Kragt said.
Dr Kragt's research examines two types of leader identity, explicit and implicit, and focuses on highlighting the positives and negatives of each type.
"Leaders who develop an explicit self-identity are more likely to display a bossy attitude and exhibit a desire to attain positions of leadership," Dr Kragt said.
"People who hold an innate belief that they are a leader are more likely to lead decisively without a bossy attitude and do not feel the need to communicate their status as a leader to others."
The research was conducted using an online questionnaire and a word sorting task, originally developed to measure stereotypes. The test allowed researchers to tap in to a person's implicit cognition and assess their deeply held beliefs about leadership.
The findings from Dr Kragt's research can be applied across a range of situations where leadership is integral such as community and volunteer organisations, competitive sports, politics and the workplace.
"My research is important as it will help us better understand how leaders behave, which will assist in the training and development of better leaders for our workforce," Dr Kragt said.
Members of the public can watch the 2020 FameLab national final, and vote for the winner, on the FameLab website . Voting closes at 12pm Sunday 3 May 2020 AWST.
Media references
Nicholas Smith (UWA Media Officer) 08 6488 1888 / 0411 644 492
Tags
Channels

Awards and Prizes — Media Statements — Research — Science — University News