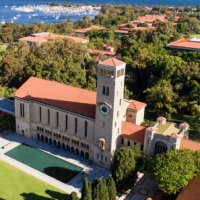 Wednesday, 29 April 2020
Dear UWA Staff,
On Saturday morning, at daybreak, we were wakened by a lone trumpeter on our street – we listened from our balcony – a sublime moment in time for reflection – no people, just the rising sun and the beautiful sound. It was a most beautiful celebration of remembrance and reminded me that there is something to be said for a simpler approach to the things that really matter in our communities.
I am pleased to announce today the launch of the UWA Support our Students (SOS) COVID-19 Emergency Appeal, a collaborative initiative by the University community including Convocation Council and the Student Guild.
This recognises that some of our students are experiencing significant challenges as a result of COVID-19, struggling in many cases to pay rent and buy essential items and to navigate residential tenancy, immigration and financial matters.
The Program will deliver much-needed financial aid, pro-bono legal and financial advice, mentoring opportunities and general messages of support to our domestic and international students during this extremely challenging time.
I am reaching out to you, our staff community, to ask you to share the details of this program, and to consider taking part by sharing a message of support, choosing to volunteer and/or donate. I appreciate that this is also a difficult time for many of you and collectively we have already gone above and beyond our normal duties, so I thank you.
It's important for our students to know that the entire University community, including staff and our global alumni network, are keen to connect and support them through this unexpected COVID-19 journey.
It was Margaret Mead the anthropologist who said " Never doubt that a small group of thoughtful, committed citizens can change the world; indeed, it's the only thing that ever has. "
Collectively, (#allinthistogether), we can make a life changing impact on the lives of some of our students who will otherwise have to forgo their studies as they have no other means.​
You can find out more about how to contribute at the SOS: COVID-19 Student Emergency Relief Appeal webpage and watch our launch video and share your support with #UWAtogether and #allinthistogether
The Support Our Students (SOS) Covid-19 Emergency Appeal is an expansion of the UWA Hardship Support Scheme.
Best wishes,
Professor Jane den Hollander AO
Vice-Chancellor
Tags
Groups

UWA Forward