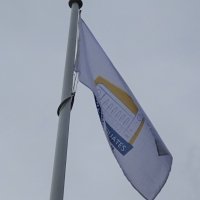 Tuesday, 28 April 2020
Convocation of UWA Graduates: Convocation flag flying from community flag pole for one week.
The University's fifth flag pole is designed to fly community flags, in order to draw attention to various issues and events throughout the year. The Pride flag is one of these community flags and, following a recent policy change, will now fly on the community flagpole when another flag is not scheduled to be flown.
On Friday 24 April 2020 a new flag was introduced to the UWA community flagpole, that of UWA Convocation, to recognise Convocation's Autumn Ordinary Meeting. The Convocation flag will fly until Friday 1 May, at which point the Pride flag will return to the community flagpole in support of the LGBTIQA+ community and to show our commitment to promoting inclusivity and diversity.
The new flag promotes Convocation as one of the four parts of the UWA community, alongside the Senate, Staff and Students.
Based on the new policy Convocation's flag will fly around each Ordinary Meeting, Convocation Day, the Welcome Ceremonies and Graduation days.
Media references
Facts
The membership of Convocation comprises all 130,000 graduates of UWA
As a community and network of graduates, Convocation forms the electorate for elections of members to the UWA Senate and the Council of Convocation
Further information on Convocation is available at www.convocation.uwa.edu.au
Tags
Channels

Alumni — Events — Regional

Groups

Convocation Conversations