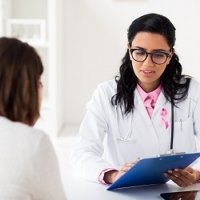 Friday, 24 April 2020
Cancer patients living in outer metropolitan areas in Western Australia are more out-of-pocket than their rural counterparts according to a new study by researchers from The University of Western Australia.
A team of researchers at The University of Western Australia, led by Professor Christobel Saunders, Professor of Surgical Oncology, has been following cancer patients in four rural (Great Southern, Goldfields, South West and Midwest) and two outer metropolitan regions (Joondalup/Wanneroo and Rockingham/Peel)  in Western Australia as they go through their cancer journey to capture all expenses incurred.
A research letter , published in the Medical Journal of Australia, assessed the wide variation in these cancer costs in patients from six different regions across WA to determine the total expenses of their cancer treatment.
Patients living in outer metropolitan areas were more likely to have high costs than patients in rural areas, with seventeen per cent of rural and thirty-three per cent of outer metropolitan participants spending more than 10 per cent of their annual household income on cancer care.
Ninety-eight per cent of outer metropolitan and 95 per cent of rural cancer participants were out-of-pocket and the amount they paid varied between $13 and $106,140.
The majority of participants' out-of-pocket costs were due to gap payments for medical costs such as surgery, tests and doctor's appointments.
Professor Saunders said health services providers and insurance companies needed to ensure cost transparency for cancer patients and should work together to increase the number of providers with no or small gap payments.
"The degree of variability in out-of-pocket expenses indicates that while some individuals receive affordable care others are experiencing substantial gap payments. Financial support schemes could be developed to alleviate financial hardship experienced by cancer patients with high expenses," Professor Saunders said.
Dr Neli Slavova-Azmanova, research associate at UWA Medical School's Cancer and Palliative Care Research and Evaluation Unit, said payment models could be developed to encourage these practices among medical specialties and in geographical regions with low bulk-billing practices and high gap charges.
"Another possible solution may be bundled-payment care packages offered by the private health funds to allow patients and their families to better understand and plan for potential expenses," she said.
Media references
Jess Reid (UWA Media and PR Adviser) 08 6488 6876
Dr Neli Slavova-Azmanova (UWA Medical School) 08 6151 1110
Tags
Channels

International — Media Statements — Regional — Research — Science — University News

Groups

Faculty of Health and Medical Sciences — School of Medicine and Pharmacology