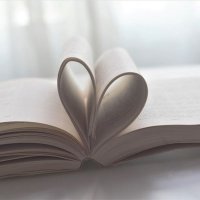 Friday, 24 April 2020
Over two million new books are published around the world every year, of which about thirty thousand are published here in Australia.
Books are our friends: we read aloud poems at weddings and funerals, nestle up with bestseller novels on holiday, and indulge in audiobooks on buses and road trips.
The books we read, write and discuss say a lot about ourselves. Our stories from the past also shape our future. Associate Professors Tony Hughes-D'Aeth and Tanya Dalziell within the Discipline of English and Literary Studies share a little about what books can do for us.
Firstly, why do old books smell so good ?
The delicious smell of an old book is called 'bibliosmia', and the smell falls somewhere between vanilla flowers and almond.
That familiar odour comes from the breakdown of chemical compounds in the paper, so what you're actually enjoying is delicious decomposition.
Read books that challenge you and don't be afraid to discuss them
"I think I've got the best job in the world," says Tony, "because I get to read and talk about books with university students."
"Books are a meeting place, and they allow us to talk about real things even when they are fictional. Sometimes a fictional book is what we need in order to talk about something real."
"Why do they have this magical quality of allowing this to talk about difficult things?"
"In the first place they move between the private and the public. A book is a public thing, anyone can buy one or borrow or download one. But it is often consumed privately. And in novels, we are often given access to the private thoughts of characters. But then these deeply private thoughts are also public, because they are there for all to read."
"So when we talk about books we have this lovely licence because we can exchange these private views – thoughts which might be intimate, or trivial, or even despicable – but we are not divulging our own secrets, nor breaking confidences. That's a really great place to have a discussion, and it opens the interior world of life up in ways that can't happen through any other means."
Tanya gets a kick out of bookish class discussions: "I talk with smart, interesting students every day who go on to do wonderful things with their lives."
"That we get to talk about books and discuss how these might shape our understanding of the world is a privilege."
Get stuck into paged friends at UWA
Spend your uni days discussing and dissecting novels, films, plays and TV narratives by taking English and Literary Studies as a major at UWA. You'll learn critical thinking and the transferable communication skills that employers look for when recruiting. You can even take it as a second major within any degree you choose.
Or want to be part of a big university-wide book club? Join UWA Read as a commencing UWA student and get a free copy of UWA graduate Josephine Wilson's novel Extinctions , winner of the 2017 Miles Franklin Award.
Tony gives us the scoop: "In Josephine Wilson's Extinctions , we spend time with a man who is trying to come to terms with the very narrow way he lived his life and the damage that his own personality has done to those around him. He doesn't really understand this, but he is starting to. The novel allows us to see his life but also to hear his thoughts – which often take the form of self-justifications and rationalisations. We enter a world of memory and regret, but also one of growth and possibility."
Tags
Channels

Arts and Culture — Teaching and Learning

Groups

Arts