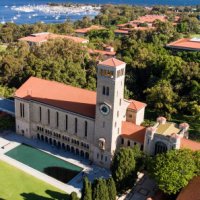 Thursday, 23 April 2020
Dear UWA staff,
Thank you for the many messages and thoughtful responses on how we can best deal with the challenges currently facing us. I appreciate your engagement and interest in ensuring the future of our workplace. Please continue emailing me – I want to hear from you as it informs my thinking and enables better decisions.
I would also like to acknowledge that today marks the start of the holy month of Ramadan, one of the most significant religious events in the world and a special time for those in our community who are of Muslim faith. This year Ramadan will be a difficult time for those who are experiencing hardship and other challenges, including physical distancing restrictions and being away from families and loved ones.
In short:
Semester 2 delivery
Research staff and students on campus
Student-led tailored exercise interventions – free for staff
Ensure your Zoom meetings continue to work
Semester 2 delivery
As you know, Semester 2 will start as scheduled on Monday 27 July 2020. This provides certainty for students and for all of our teaching and support staff. Alongside this we have also advised all of our students that Semester 2 will be fully available in online mode, including assessments and exams.
This means that if (and it's a big if) social distancing restrictions do ease and determinations are made that physical classes can safely recommence on campus, online lectures, interactive digital tutorials and online exams and assessments will still continue to run for remotely located students who cannot get to campus due to travel restrictions.
Research staff and students on campus
For staff and research students whose work requires the use of campus facilities, we will continue using a mix of 'working from home' and 'working on campus'. This means that if you are a researcher who is able to accomplish your normal duties from home, you may continue to work remotely. If, however, your work requires use of campus facilities, you are able to come onto campus where necessary and should begin talking to your supervisor about that so arrangements can be made.
The UWA Crawley campus remains open and operational. It is important that if you are working on campus, you follow strict physical distancing and hygiene measures, as per State and national health requirements.
Student-led tailored exercise interventions – free for staff
UWA's Exercise and Performance Centre (EPC) has set up a new online telehealth exercise physiology service, which offers individualised and tailored exercise interventions to help you improve your health and wellbeing, recover from injury, or manage your chronic condition. Final year EPC students, training to be allied health practitioners, are offering free expert guidance to staff, including:
Individual exercise physiology consultations
Staff wellness group classes
To express your interest or for further information, email [email protected] , or complete this online survey .
Ensure your Zoom meetings continue to work
As outlined in last Wednesday's email , the default settings for Zoom meetings have been adjusted to make meetings more secure. If you created a Zoom meeting request before 15 April, you must edit the Zoom settings for these meetings to ensure they can still go ahead. To do this:​
Open the settings within each Zoom meeting
Click on 'edit' and a password will automatically appear
Update the text in the Outlook meeting request to include the new Zoom link and issue an update
Note that the new Zoom links will include the phrase "pwd=" and are longer than the previous links.
It's been a tough week for everyone as we continue to endure the isolation and complexity of work at a distance. Many students are suffering severe hardship and we have already expended $1M in financial support as well as working with the Guild to provide food and other supports. One of the most significant influencers in my life has been Nelson Mandela. He endured imprisonment, hardship and abuse for decades, only to emerge from jail and lead a divided South Africa to a democracy. He frequently referenced one of John Wooden's quotes: " Things turn out best for the people who make the best of the way things turn out… " Wise words that I hope encourage you all to keep going.
To all our staff of the Muslim faith I wish you Ramadan Mubarak.
Best,
Jane
Professor Jane den Hollander AO
Vice-Chancellor
Tags
Groups

UWA Forward