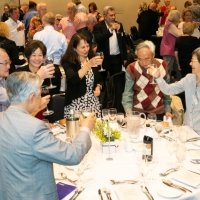 Thursday, 23 April 2020
This year is the 50th anniversary for graduates of 1970.
A celebratory event is planned to take place on 21 November at Winthrop Hall, starting at 11.00am and concluding at 4.00pm.  However, due to COVID-19, plans for this event had, up to now, been put on hold.
Recently, and with an optimistic view, the Events Committee of Convocation Council has once again resumed planning for this event.  We are, of course, taking into account the possibility of the 50th Reunion being in a different format due to the pandemic; that is, face-to-face but with social distancing restrictions or even online.  Other possibilities have also been considered due to the unchartered nature of the current crisis.
In the meantime, we can certainly proceed with the collection of the potted biographies of those graduates (approximate word count of 250-400) and, ideally, accompanied by a photo.  These can be sent to: [email protected] at any time or by post to The University of Western Australia, M362, LB5005, Perth, WA, 6001.  Items of memorabilia for the planned event are always interesting and most valued. Please keep these aside for the moment and until called upon by us, depending on what eventuates with the planning.
As Events Coordinator, I will also be liaising with a small group of volunteers from the 1970 graduates, who have indicated their interest in being involved in the planning (thank you to those volunteers!).  Their input will be most useful to us in helping to tap into the 'feel of the era' and what mattered most to the cohort of UWA graduates from that time.  I will also be approaching selected graduates who might be interested in being a guest speaker on the day.
If all goes well with WA's containment of the virus, and if restrictions are lifted to such a point that we can progress with a face-to-face gathering for this important event, then we will be planning to offer a cherished experience of seeing each other again and of catching up in a pleasant and meaningful environment.  Let's hope for continued progress with our plans for the event!  We will update and inform the graduates of 1970  as the situation becomes clearer.
Stay well and safe!
Dr Angela Evangelinou-Yiannakis
Chair of Events Committee, Convocation Council
Media references
Facts
The membership of Convocation comprises all 130,000 graduates of UWA
As a community and network of graduates, Convocation forms the electorate for elections of members to the UWA Senate and the Council of Convocation
Further information on Convocation is available at www.convocation.uwa.edu.au
Tags
Channels

Alumni — Events — Regional

Groups

Convocation Conversations