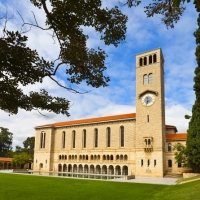 Wednesday, 22 April 2020
The University of Western Australia has launched an expert series showcasing the health and medical expertise of its clinicians, academics and researchers who are leading efforts to address the COVID-19 health crisis. The series is complemented by an experts guide for media seeking evidence-based input from UWA academics across a broad range of subject areas and specifically, COVID-19.
The research series aims to improve understanding about key aspects of the current pandemic with research expertise covering areas including virology, respiratory and infectious diseases, epidemiology, public health and psychology.
Experts include UWA's Dean of the Faculty of Health and Medical Sciences, Professor Jon Watson , who warns that WA is risking COVID-19 disease flare-ups across the state if it becomes too confident too soon and responds to the recent "flattening of the curve" by easing up on strict social distancing restrictions.
Playing a key role in advising state and federal governments on COVID-19 strategy through the Group of Eight Universities' panel of research experts, Professor Watson praised the WA Government for leading Australia with its hard border closure and regional controls, describing them as necessary moves to "flatten the curve" when dealing with a geographical area as big as some European countries.
Professor Toby Richards , UWA's Lawrence-Brown Chair in Vascular Surgery shares his insights on COVID-19 treatment, clinical trials and why buying time through isolation and ramping up collaboration is our best chance of defence.
WA's COVID Research Response (CRR), with World Health Organization-endorsed protocol, is being coordinated by the WA Health Translation Network (WAHTN) and brings together the efforts of UWA with four other universities, six major research institutes, public and private hospitals and the WA Department  of Health.
The WA Government has provided $3 million to fund the local COVID-19 research and a further allocation is expected to be made by the Federal Government. Already the first WA COVID patients have been recruited by the CRR team. A core platform has also been developed that will enable these patients to assist the teams of expert researchers, scientists and doctors to help find the problems and potential cures for COVID-19.
UWA Professor David Lawrence from UWA's Graduate School of Education outlines lessons about Post Traumatic Stress Disorder from bushfire fighters that can be applied to Australia's frontline health workers. The insights he says can be applied to the COVID-19 response include the importance of allowing healthcare staff adequate time to process, rest and recover after each shift.
Media references
Jess Reid (UWA Media and PR Advisor) 08 6488 6876
Tags
Channels

Media Statements — University News

Groups

Faculty of Arts, Business, Law and Education — Faculty of Engineering and Mathematical Sciences — Faculty of Health and Medical Sciences — Graduate School of Education — Science Matters