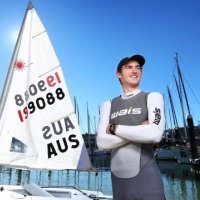 Tuesday, 21 April 2020
Many athletes are largely confined to the indoors, unable to properly train yet trying their best to maintain their fitness level. UWA Sport have checked in with our student athletes to see how they are adapting.
Tristan Schoolkate, tennis
At this time, Tristan was expecting to start a four-month burst of internatonal competiton. However, with all tournaments shut down indefintely, he has gone back to basics in training.
"I went back to where I began playing tennis, against a wall, and I did that for a couple of weeks," he said.
Tristan is now also able to practice with one other player from other clubs, while continuing to run and gym at home to keep up his fitness.
"This has allowed me to get back into a bit more of a structured routine"
Zac Littlewood, sailing
With sailing limited by social distancing restrictions, Zac is finding new ways to make do on dry land.
"I've been quite fortunate I still have access to gym equipment and my road bike," he said. "With less time on the water I've been able to double my gym sessions and really focus on my fitness"
He has shifted his sailing training to on land too, adjusting his focus to techniques and fundamentals.
Zac says that having a routine helps him to balance his time between training and studying.
Media references
Lisa Yang
UWA Sport Marketing Graduate Officer
6488 2886
Tags
Channels

Sport

Groups

UWA Sport