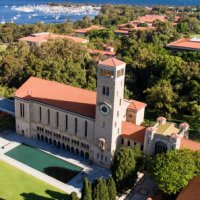 Monday, 20 April 2020
Dear UWA staff,
It's back into full swing, as students return from the mid semester break – it's always a bit dreary when they are not around. It's also good to know that our attrition appears to be less severe than the sector as a whole so we got a few things right this far but we are not out of the woods by any stretch and more on that later.
We're covering a lot of topics in today's email. As well as some important logistical information on online exams and the academic calendar, I'm also including information on mental health support for students and for you – our staff. Additionally, there's some positive news on how our research expertise is assisting in the COVID-19 response, and what support is available for researchers.
All of this is important – please make time to read these updates as they will surely help you and your colleagues and our students as we venture into a new world of online assessment.
In short:
Online exams using Examplify (update)
Semester 2 start date
Supporting students' mental health needs
Coping with COVID anxiety adult therapy groups
Research update
Wellbeing series (videos from our experts)
Online exams using Examplify (update)
After consultation with staff and student representatives, we have purchased Examplify, a software platform that will be used to deliver many online exams.
We have investigated a number of issues and concerns raised by the University community about Examplify and are confident that it will be an effective tool for our assessments, provide integrity and meet the University's requirements for security, data management and privacy obligations. We have updated FA Qs on these topics and hope that they help address any concerns you may have.
Unit Coordinators are currently determining which units will be assessed through Examplify. Once this decision has been made students will be notified through the LMS and on the exam timetable from Monday, 4 May.
For units where exams are offered on Examplify, students will have an opportunity to opt out of using the software either before or after they test the program with a mock exam, should they have unresolved concerns about the software.
If students choose to opt out of the Examplify exam we will work to schedule a face-to-face exam at the next available time. Please note that due to COVID-19 restrictions we are unable to commit to when this may occur. If students are intending to graduate mid-year 2020 they will be provided with an alternate assessment.
If students have a scheduled exam using Examplify, they will be invited to undertake a mock exam.
We are developing support and resources to help students prepare for online assessment.
Technology requirements for students taking online examinations:
The Examplify platform needs an internet connection to download and upload the exam paper but does not need to be connected to the internet during the exam itself. Hardware and software requirements are listed here . The University has been supporting students who have difficulties with access to internet and devices. If you have students in need, please ask them to reach out .
Semester 2 start date
After consultation with Executive and the Guild the decision has been made to progress with the University's original Semester 2 start date of 27 July .
Supporting students' mental health needs
UWA Counselling and Psychological Services have recorded a 15 minute video on "COVID-19 and Students' Mental Health" as a quick reference guide. This is in response to many staff members noticing changes in students' coping abilities, and expressing a need to know how and when to provide support to students.
The video can be accessed via the EEU EDUFlex website under " Transitioning Learners Online " resource tab, which is focused on how teaching staff can prepare students for online learning and teac​hing.
Coping with COVID anxiety adult therapy groups
It is normal to be feeling worried and anxious right now. Sometimes, it can be helpful to understand more about these difficult emotions and to learn how to navigate your way through this stressful time.
UWA's Robin Winkler Clinic will be holding free 'Coping with COVID Anxiety' adult therapy groups. This eight-week group therapy program will be conducted online and co-facilitated by our postgraduate trainees (under supervision).
To apply, complete the application form here: https://www.uwa.edu.au/-/media/Faculties/Science/Docs/RWC-Clinical-Application_Adult-April-2020.pdf
Research update
UWA researchers are making important contributions to a collaborative effort on COVID-19. The collaboration across WA universities and WA health services is being coordinated by the Western Australian Health Translation Network. UWA contributions include:
Clinical trials with COVID-19 patients ; a collaboration with Professor Toby Richards as the UWA lead
Supporting mental health of WA healthcare workers; a collaboration with Professor Sean Hood as the UWA lead
COVID-19 patient database and data linkage; a collaboration with Professor Jon Watson as the UWA lead
UWA researchers have also assisted the COVID-19 response via modelling of the effectiveness of 'social (physical) distancing' options, and will participate in a Group of Eight 'COVID-19 Recovery Response Taskforce'. This Taskforce will consider scenarios for recovery as physical distancing measures are relaxed, integrating perspectives from psychology, psychiatry, wellbeing, values, Indigenous knowledge, economics, business development, trade, and epidemiology.
More generally, UWA researchers have continued to be active in grant submissions and conducting research across a wide range of disciplines. Many projects, however, are being impacted by the changed circumstances resulting from COVID-19. The Office of Research Enterprise will soon be in contact with researchers to more fully understand these impacts on a project-by-project basis, and will assist with communications with external funding agencies. Similarly, the Graduate Research School is contacting HDR candidates and their supervisors to document impacts on HDR researchers, and to work collaboratively to resolve issues faced by this important part of our UWA community.
Wellbeing series (videos from our experts)
The UWA Health Promotion Unit have been busy working on a series of videos around mindfulness and wellbeing. The Mindful Moments playlist includes a number of easy to follow mindfulness recordings and short guided meditations. There are so many benefits to mindfulness – from reduced stress, improved sleep, and increased levels of focus and happiness so I encourage you to check these out.
They have also partnered with the UWA School of Psychological Sciences on a Wellbeing Series which addresses practical strategies for building greater self-compassion, to ways you can manage COVID-19 related anxiety.
If you have any questions or feedback, please get in touch via [email protected] . I am always happy to hear from you and am keen to understand your perspective.
This afternoon I have a very significant Senate meeting at which I will be advising our Governing body about the impact of COVID-19 on the University's finances for the remainder of 2020 and into 2021 and beyond. This conversation, and the advice received, will then inform my email to all of you tomorrow in relation to the kind of actions we must take collectively to endure and secure our future to the next decade and beyond. It's a very important conversation for them, and for all of us it is central to determining how we go forward from here.
Carpe diem - we must seize this moment. I shall write to you tomorrow.
Best,
Jane
Professor Jane den Hollander AO
Vice-Chancellor
Tags
Groups

UWA Forward