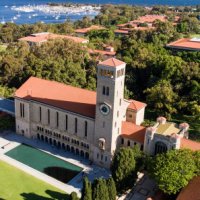 Wednesday, 15 April 2020
Dear UWA staff,
I hope you had a restful and refreshing break over the Easter weekend.
As we move into the second half of semester we are beginning to see a clearer view of the way forward. The Federal Government's confirmation that our Commonwealth Grant was guaranteed for this year is most welcome. The new announcements around new short courses, at much reduced funding, will require closer work from us as to what we are able to do, or not.
Fortunately, at UWA, and in anticipation that we should find ways to assist Job Seeker and Job Keeper recipients, we have been working towards offering additional micro-credentials across a number of specific areas where job vacancies are likely and where evidence of additional expertise and new skills may be required post COVID-19. The announcement from the Government underscores the importance of our efforts in this space. More news soon.
With Easter over, we're drawing closer to exam time and planning is well underway. Please visit the Exams and assessment FAQ page for more details on the ungraded pass, online exams and other topics.
Over the last couple of weeks we have been distributing support to our students in need, with 126 welfare packs individually delivered by our amazing UniMentors. These include emergency packs (household items and basic groceries), hygiene packs (cleaning and antibacterial supplies) and baby packs (milk formula and nappies for students with families). Additionally, we've given out more than 100 loan laptops and dongles. It's been truly heartening to see the way in which our community has drawn together.
Our students are back next week and meanwhile here are some matters that may be useful to you in this COVID-19 world:
In short:
Changes to default Zoom settings
Online ergonomic assessments
Travel within Western Australia
Coronavirus email signature – link correction
Changes to default Zoom settings
In response to the increase in 'Zoombombings' worldwide, we've made some changes to the University's Zoom services in order to minimise meeting interruptions, while keeping staff and student meetings secure. The main changes are summarised below:
Settings which are now 'on' by default, but can be changed by the meeting organiser:
Participants must sign into Zoom using a UWA account in order to join a meeting; this prevents anonymous or unauthorised participants from joining. This setting should be switched off by the meeting organiser when inviting non-UWA participants.
Participants will not be able to join a meeting until the organiser has joined; this provides the organiser with time to prepare for the meeting.
Participants' microphones and cameras will be disabled when they first join a meeting (they can still enable these immediately if they wish); this reduces audio and visual distraction when a participant joins late or is joining from a noisy location.
Settings which are now 'on' for all UWA Zoom accounts:
A password is now required when scheduling a meeting; this prevents anonymous or unauthorised participants from joining. Please note that no extra steps are required from the organiser or participants with this option enabled – the password is automatically embedded in the Zoom invitation.
File transfers between meeting participants (and organisers) is disabled; this prevents the accidental or deliberate sharing of malicious files like viruses or trojans. Please use an existing service (the LMS, OneDrive, or similar) to share files.
Password-related settings:
As Zoom accounts are separate from UWA accounts, we strongly recommend that staff and students do not reuse their UWA password for their Zoom account.
Zoom password complexity requirements have been aligned to those required for UWA systems and services . You can view the full set of changes on the Working Remotely intranet page under the Zoom heading.
Online ergonomic assessments
If you're working from home, it's important to look after your posture and comfort. While we know not everyone has access to a well-designed home office, we encourage you to look at the Workstation Setup Guide to see how you can optimise your comfort while working from home.
You can also:
schedule regular postural breaks to avoid build-up of muscular tension and incorporate some movement into your day.
aim for five minutes break for every 30 minutes of sustained computer work – consider taking a phone call in the garden or making a cup of tea.
Ergonomic assessments and advice are still available to all staff and PhD students. If you are noticing aches and pains associated with your workstation setup, please contact us on 6488 7931 or complete the Ergonomic Assessment Request Form . The Health and Wellbeing team will be able to complete a virtual assessment via telephone or Zoom.
Travel within Western Australia
While UWA is fully supportive of the travel restrictions within the state, we acknowledge there are some valid reasons for essential travel. Before embarking on any travel please review WA regional travel restrictions .
If you believe you fall under an exemption category AND are required to travel between these regions you will need to prepare documentation to present to police at the regional check points. This documentation can be a letter/email/SMS from an employer that supports the legitimate travel. These resources are intended for UWA travellers who need to return to UWA where this is essential to their education, or cross regional boundaries in the course of their education.
If you feel you have an essential travel requirement for UWA work purposes, please see:
Coronavirus email signature – link correction
In my last email, I introduced a new COVID-19 safety message that can be added to your email signature. The correct link to download this signature, through pheme log in, is: https://www.brand.uwa.edu.au/downloads/signature
Soon, we will need to be thinking about a post COVID-19 world and what recovery looks like. This means that we need to think carefully about our contribution to the success of our State and our sector. So we need smart ideas and solutions as part of a campus wide discussion. There is much hardship to contend with before then but I am reminded of that great philosopher Dr Seuss who summed it up just perfectly: " You have brains in your head. You have feet in your shoes. You can steer yourself any direction you choose. " I am banking on our ideas to take us forward. I hope you are too.
Keep physical distancing – it's critical to our release from constant Zoom meetings!
Best
Jane
Professor Jane den Hollander AO
Vice-Chancellor
Tags
Groups

UWA Forward