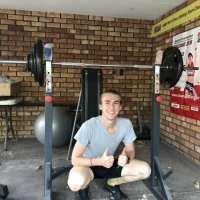 Wednesday, 15 April 2020
Athletes across the world are having to get creative to stay healthy and pass time while social distancing, and many have adjusted to training at home or found new hobbies to fill up the time.
Here are how some UWA student athletes are doing:
Aidan Read, motorsports
Aidan Read is usually found on the track, but where practice isn't possible he has adjusted to training from home.
"I am lucky to have a good home setup with plenty of weights to continue resistance training".
In addition, he has incorporated more runs and walks, often with his dog.
As for his Motorsport training, Read has focused on using driving simulators and reviewing information from past events.
"These are the best ways to reflect and keep the focus so I'm ready when the time comes".
Aside from training, Read is paying closer attention to his diet, trying to keep it cleaner and simpler.
Declan Tingay, race-walking
With no more classes to attend and all competition cancelled for the foreseeable year, Declan Tingay has seen massive changes in the last few weeks, but has managed to creatively adapt to a new schedule.
"I have switched up my training to include cycling and running, two sports I would not normally have time to include in my training schedule".
Declan also continues to train in his home gym, and continues to post Run Club workouts.
When he isn't training, he is gardening, studying or binge watching movies.
Declan's tip to all students during this time:
"Flexibility and creativity are key right now, as well as maintaining any sort of schedule to help you prioritise your study and steer clear of boredom".
Media references
Lisa Yang
UWA Sport Marketing Graduate Officer
6488 2886
Tags
Channels

Sport

Groups

UWA Sport