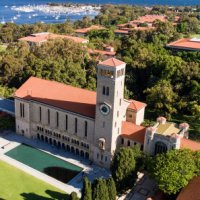 Thursday, 9 April 2020
​​Dear UWA staff,
As we prepare to experience a very different Easter break, at home, mostly not at the beach, not down south and definitely not with lots of friends or family, I am reminded that our adaptability and endurance to get to this point has enabled us to keep our campuses operating. Alongside this we have seen the number of new COVID-19 cases across Australia falling as social distancing measures have taken effect, and I am hopeful this trend will continue.
It's quiet on campus as I write this, but not empty as the ducks, magpies and crows are happily going about their business with a few students and staff grabbing coffee as they head back to their library, lab or office.
If you're looking for something to do over the Easter break, I can highly recommend taking a look at UWA Sport's offering of online workout videos , checking out the Institute of Advanced Studies' public lecture recordings , or watching this beautiful performance by our music students and staff.
I know the long weekend will also be a challenging time for some of us. Please know that you are not alone: helpline numbers and contact details for support services are available on the Staff Intranet (under 'Resources'). Ask for help if you need it.
In short:
Online access to high demand textbooks
Add a coronavirus safety message to your email signature
Academic Withdrawal
Student exchange update
Online access to high demand textbooks
We are working on increasing digital access to high demand print textbooks to support online student learning. A number of textbooks have recently been made available via OneSearch, and the Library is systematically working through highly used titles and seeking online access. In the meantime, if there is a high demand print textbook that you need access to, please email the Library via [email protected] and we'll do our best to prioritise your request to investigate online access.
Add a coronavirus safety message to your email signature
You can now add a COVID-19 safety message to your email signature, reminding everyone to stay home, practise social distancing, keep high hygiene standards, clean regularly, and look after their mental health. These are all small – but critical – things we can do to help stop the spread of coronavirus and save lives. Download the email signature from the Brand website .
Academic Withdrawal
It is important students know of our continued commitment to help them achieve their study goals for both semester 1 and future study periods. In today's student email I have reminded students of all the options available to them during these exceptional academic circumstances.
Some students have already chosen to reduce their study load this teaching period which has enabled them to better manage their own transition to online learning.
The special 14 day assignment extension process has also been utilised by many students to deal with the many unforeseen impacts that COVID-19 has had on their studies. This one off request is still available and students are encouraged to use this mechanism to help them with their forthcoming assessments.
We've also introduced the opportunity, where appropriate, for students to accept their final unit mark or opt in to request an Ungraded Pass (UP) grade. This will not count towards their weighted average mark (WAM) or grade point average (GPA). If students fail a unit in semester 1 then they will receive the final mark they achieved for that unit but it will not count towards their WAM and GPA. The online exam FAQ's will continue to be updated with more information about applicable circumstances.
Student exchange update
At this stage, the University's international travel ban continues to apply to all staff and students undertaking work or study-related travel. This is in line with the Department of Foreign Affairs and Trades' travel warning of 'Do Not Travel.'
This decision ensures the safety and health of all our students and staff, whether they are in Australia or overseas. Due to the dynamic nature of the virus the ban is being reviewed frequently. If you receive queries from students about planned or future exchange, please direct them to the Global Learning Office .
Events are moving rapidly, and next week no doubt things may look very different again. We have moved the mountain during this first half of the semester and I am sure all of you, especially the AD TLs, the teachers, and the support staff at the coal face, feel as is if you have been hurtling around at the speed of light. You have. But when we come back let's remember the journey is probably a marathon not a sprint and so here is a reminder of a famous tale from Aesop, summed up in this old adage: "We live in a culture full of hares; but the tortoise always wins."
Stay home, Stay safe, Eat chocolate – this year you absolutely deserve it.
Best,
Jane
Professor Jane den Hollander AO
Vice-Chancellor
Tags
Groups

UWA Forward