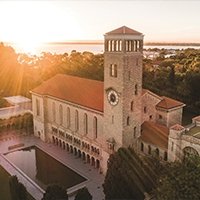 Thursday, 9 April 2020
The University of Western Australia has partnered with Microsoft to rapidly implement new online learning and collaboration solutions, supporting University staff and students working and studying remotely due to the COVID-19 outbreak.
UWA's Chief Information Officer Warwick Calkin said the partnership was one of the solutions that enabled the University's quick transition to online mode, ensuring the continuity of teaching for students as well as the safety of its workforce.
"The solution implemented by Microsoft allows UWA to strategically blend digital technology with a flipped classroom model of learning and teaching, while providing downloadable recorded lectures and virtual labs to students," Mr Calkin said.
"University IT and faculty teaching staff worked closely with the team from Microsoft to accelerate the introduction of the cloud-based learning platform and move more than 3,000 units fully online.
"These newly implemented online teaching, learning and collaboration tools will enable more than 18,000 students and 3,000 staff to study and work remotely."
The tools are driven by Microsoft's Azure product line, a global cloud-based backbone for many web services, including Azure Labs, Office 365, Outlook and Teams.
Microsoft Australia's Education Director Tiffany Wright said Azure Labs, one of the solutions implemented, provided a scalable and reliable platform that had helped the University meet the recent need for remote learning.
"The solution supports international students who are accessing the learning platform from their home countries, and also local students who are studying from home," Ms Wright said.
"Access to Microsoft Teams allows UWA to support its staff who are currently working from home without interruption or complication, providing a resilient communications and collaboration environment."
The University has also developed an analytics dashboard that provides executives with key statistics and insights focusing on how students are accessing and using the platform, which will influence future and ongoing improvements to the learning platform.
Media references
Nicholas Smith (UWA Media Officer) 08 6488 1888 / 0411 644 492
Rudolf Wagenaar (Commercial Communications Lead, Microsoft Australia) 0439 082 550
Tags
Channels

Business and Industry — International — Media Statements — Students — Teaching and Learning — University News

Groups

Business Information and Technology Services