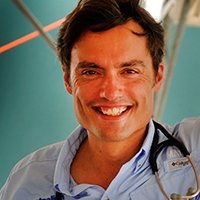 Tuesday, 7 April 2020
While he may feel he was lucky to be "in the right place at the right time", there's no doubt that the skills and experience gained from working in some of the world's most vulnerable and war-torn countries helped UWA medicine graduate Nick Coatsworth secure the role of Deputy Chief Medical Officer of Australia.
An infectious diseases and respiratory medicine specialist at Canberra Hospital and Australian National University academic, Dr Coatsworth was last week appointed as one of four deputies to Chief Medical Officer Brendan Murphy, joining fellow UWA medicine graduate Dr Paul Kelly on the front line of the country's medical response team to the COVID-19 pandemic.
And it's been a hectic start to say the least, juggling meetings, webinars and regular media interviews on prime time television.
"It's very difficult to sleep with all the stuff that's buzzing through your mind," Dr Coatsworth said. "There's such an enormous amount of work to be done in our complicated health system."
Since taking up the role, he said it was hard to believe how much work had already been done.
"I feel like an interloper coming in halfway through," he said. "Brendan Murphy and Paul Kelly – their stamina is just astonishing. Any time I feel tired I just look at those two and think 'buckle up Nick'."
As the practising clinician, his role involves dealing with hospitals and health services.
"So I'm mainly liaising with the presidents of the colleges doing webinars for clinicians, which are really important because the Commonwealth traditionally doesn't have a strong role in the hospital sector.  But during a time of crisis we are and should be expected to have some sort of overarching view on that," he said.
"Letting people know that they're being heard as a clinician in the Commonwealth health department has been very important. I've had a lot of positive feedback about that – knowing that someone's just come out of working full-time as a clinical head of unit at Canberra hospital has been helpful."
While most of us would find working as Director of Infectious Diseases at Canberra Hospital and lecturing in medicine at the Australian National University more than enough, Dr Coatsworth is also undertaking a part-time PhD on the topic of how infectious diseases affect foreign policy. He already has a Masters in International Public Health from the University of Sydney.
But the PhD has been put on hold for now, while he tackles the real thing.
During his stint with Médecins Sans Frontières, Dr Coatsworth worked in Congo-Brazzaville, Chad and the Darfur region of Sudan – some of the poorest countries in the world crippled by conflict and disease – providing valuable experience for his current role.
"It's about being able to make common-sense, fast decisions, which is an asset. And if you've worked in emergencies – not that people who haven't worked in emergencies can't do that – it's just that the level of comfort that you have in this rapidly changing environment is improved.
"You're comfortable making those quick decisions that have big implications and that's the real key. Obviously they still have to be considered and evidence-based but the amount of time you have to actually do the reflection is brief."
While he wasn't involved in the process, Dr Coatsworth said a good example of quick decision-making during the current pandemic was the recent reform of Telehealth – something that would usually take years and was done in 10 days.
Dr Coatsworth said while it was fair to say Australia had probably reached the peak of its travel-related COVD-19 cases, we still had a long way to go to reach our peak of community transmission.
"It's not really clear where we are from a community transmission perspective – we know that there's very low community transmission and if we can keep people isolated, quarantined, do the contact tracing and we all maintain the distancing measures that are taking place, then you'll see the community transmission flattening. But we can't tell at the moment, because it's too early in our actual community epidemic.
"If we divide it into a travel-related epidemic, which reflects what's happening around the world, and a community epidemic, which more accurately reflects what's happening in Australia, we're just in a very early phase of that.
"The assumption is we've still got months. We've taken the view that we need to give a realistic impression of how long Australians' lives are going to change for and if it's less than months then we'll be overjoyed.
"The more you flatten the curve, the more you prolong the epidemic in a non-immune population."
Dr Coatsworth said he had fond memories of his time as a medicine student at UWA.
"I've always said there are two things WA does really well: mining and medicine," he said.
"When I first came over east, people in the health system were really happy to take on UWA medicine graduates because they were well-regarded."
Since being appointed Deputy Chief Medical Officer, Dr Coatsworth said he had received many messages of support from his fellow graduates.
"One of the best things about being in the job is that a lot of old mates from uni have contacted me, which has been really positive."
Media references
Simone Hewett (UWA Media & PR Manager) 08 6488 3229 / 0432 637 716
Tags
Channels

Alumni — Appointments — Media Statements — University News