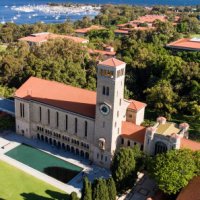 Monday, 6 April 2020
Dear UWA staff,
We've made it to the tuition free week, mostly intact, but now knowing that over 1 million people have contracted the virus and many of these will lose the battle. My 95 year old mum likens it to the depth of despair during the London bombings in terms of its capacity to terrify and dishearten. So today we send our thoughts to everyone who has experienced the devastation caused by war or displacement and is now experiencing it again.
I hope these two weeks without student classes provide you an opportunity to catch your breath, reflect on the year until now, and recharge your batteries in readiness for the remainder of Semester 1.
Last week we had many surprises. The Prime Minister saved child care centres from closure enabling many UWA staff to keep working and we congratulate him for that speedy initiative.
It was however disappointing to hear suggestions that international students should consider making their way home if they are unable to support themselves. We know that many of our international students are in the middle of Semester 1, having made the tough decision to maintain their studies during this difficult time. We also know that the diversity of our community is our strength and without our international students we are the poorer.
In short:
Support for international students
Privacy and online exams
Online assessment and exams: additional information
UniDesk – Remote access solution for laboratory and library workstations
Support for international students
On Friday evening, I emailed all our students to reiterate UWA's message that all students and staff, particularly those who have moved here from around the world, are welcome and will always be equal and valued members of our community.
We know that many of our international students are struggling financially because they have lost their casual jobs and are unable to access the Federal Government's JobSeeker payment.
That's why UWA's Financial Hardship Grants scheme – which we also announced on Friday – is open to all students, including international students. Students can also apply for assistance with IT equipment, welfare packages and housing and fees. If you know of an international student in need, please direct them to the Students website for more information on support options.
Privacy and online exams
A number of students have emailed me expressing concerns around how conducting online exams will affect their privacy, given they will be required to download the Examplify application onto their desktop or laptop.
We are currently looking into these issues and will provide further updates shortly, noting that UWA will always adhere to the responsible and legal management of personal information and uphold the strictest privacy obligations to students, staff and other members of the University community.
Online assessment and exams: additional information
I understand that both staff and students have some questions about how online assessments and exams will work. The Online Exam FAQ page has information on how to apply for an Ungraded Pass and what happens if students fail a unit, among other topics.
Please check the Online Exam FAQ page regularly for the latest information.
UniDesk – Remote access solution for laboratory and library workstations
The new UniDesk service allows staff and students to remotely access on-campus laboratory and library workstations from a personal device, in order to continue the delivery of teaching and learning activities.
The existing workstations have been re-purposed to allow this remote access, meaning that teaching staff and students do not have to install specific software on their personal devices – they can instead connect to these existing on-campus workstations; all required software is already in place and configured. This setup allows us to control the teaching and learning environment, ensuring that the experience is as close to being in the physical laboratory or library as possible.
Resources for staff and students will be added to the EDUFlex and Library sites over the course of the next few days; in the interim, a student-focussed guide is available for distribution.
I leave you with this from Vladimir Ilyich Lenin: " There are decades where nothing happens; and there are weeks where decades happen ."  This probably sums up how we all feel right now, especially those teachers and support staff at the online frontline and health workers at the COVID-19 frontline.
Take care, stay in touch, and enjoy a less frenetic week (hopefully).
Jane
Professor Jane den Hollander AO
Vice-Chancellor
Tags
Groups

UWA Forward