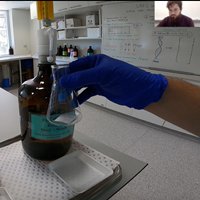 Monday, 6 April 2020
The practice of hands-on techniques and the process of problem solving in the laboratory are essential employability skills for many students from a range of disciplines across the faculties at UWA. The teaching of these skills has never been more challenging as educators now grapple with the consequences of COVID-19.

Over the last few weeks, many of us have had to change the way we teach laboratories, including switching to remote teaching using Zoom for discussions with students and making videos of laboratory procedures. Teaching staff have been spending long hours getting used to new platforms, filming, editing, preparing and delivering. They are further honing and enhancing the experience as they go, incorporating live chat and polling functions with the aim of increasing the benefits of participation for the students.

It's never been a better time for a Community of Practice (CoP) to come together and share ideas that have the potential to change the way we do laboratory teaching.

Our CoP is focussed on transforming laboratory education at UWA, and our members come from across faculties, universities, industries and research institutions. We have hosted presentations that highlight how the laboratory experience can be enhanced by innovative delivery, technologies such as interactive laboratory orientation tours, and the use of Electronic Laboratory Notebooks (ELNs) in the undergraduate teaching laboratory as well as for research.

The rapid changes of the last couple of months have meant that the project to introduce ELNs using the LabArchives platform has also moved ahead quickly. We are now planning to convert the delivery of laboratory sessions in a second year Biochemistry unit using LabArchives. The new laboratory format will build on a well-established "Prepare, Do, Review" method of modular delivery of laboratory techniques that features an online prelab session, an interactive laboratory session, and an online postlab. The entire content of each modular laboratory is being reviewed, and the interactive laboratory sessions for each will be filmed and presented via Zoom in the first instance, with the critical hands-on experience to follow.

Importantly, our aim is not to replace the hands-on experience of learning in the laboratory. Online experiences can't replicate the procedures, manipulations, timing, precision and actions connected to critical thought and theoretical knowledge about a process that the hands-on experience can bring. Hands-on laboratories also help to develop student confidence in their technical abilities by using laboratory equipment, and in learning to understand the uncertainty of data by experimentally generating their own results.

However, there is no doubt the remote teaching innovations that have been developed recently can continue long into the future past the current crisis, and complement the hands-on laboratory experience that truly prepares the graduate for employment.

Authors : Dr Joanne Castelli, co-lead in CoP for Transforming Laboratory Education with Dr Peter Arthur and Associate Professor Philip Burcham.



Tags
Groups

Education Quarterly