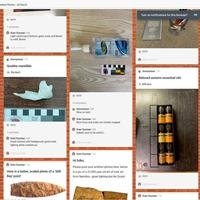 Sunday, 5 April 2020
Forming a live virtual ensemble, finding and documenting 'virtual artefacts', sharing online 'learning lunches' and turning theatre productions into radio-plays are just some of the ways staff and students across the Faculty of Arts, Business, Law and Education are embracing the challenge of learning online.

Conservatorium of Music
Dr Ashley Smith

Music Principal Studies, Honours Projects

At the Conservatorium of Music, students enrolled in honours projects have not let distance get in the way of learning, creativity or collaboration. These performance-based Music units have transitioned to online learning, with more than 60 students participating in a live virtual ensemble.

The virtual teaching space has enabled innovation for pedagogical practices in music, and students are delighted to remain connected to their learning and their peers.

One student wrote to staff: Thank you so much for such a great class this afternoon! It has definitely highlighted the fact that I need to be thinking about my practice more than I do and clarifying what my goals are in approaching each practice session. It was great being able to share the class online given what's happening.

School of Social Sciences
Dr Sven Ouzman

Archaeology and Centre for Rock Art Research

Online learning presents a particular set of challenges for students that would usually be engaged in practical group learning activities in an archaeological field skills unit (ARCY3002 Archaeological Field Skills). As fieldwork has been postponed due to physical distancing (not 'social' distancing – we like to learn in virtual groups) measures, the learning activities are being adapted to focus on practical at-home-skills for students to engage digitally via the Learning Management System (LMS).

Innovation and lateral application of archaeological concepts are being integrated to adapt to the educational technologies in a number of ways.

Innovation and lateral application of archaeological concepts are being integrated to adapt to the educational technologies in a number of ways.

On 25 March, students were tasked with finding a three-dimensional artefact from home (the cat, cups, coins, sculptures etc.) and photographing it as they would any artefact found during fieldwork. They had to include scale, lighting, file labelling and metadata. Students then posted their findings on the Padlet app that was 'bolted on' to the LMS. Students commented on each other's photos and I provided one positive comment and one constructive critique on their work. In this way, students were encouraged to act practically but think virtually. Next week, students will present newspaper 'pitches' via Zoom. We are also inviting experts and industry clients to use Zoom to provide students with a brief for Desktop research that will inform the actual field school which will, provisionally, take place in September, prefaced by a full-day skills workshop.

Engaging students in fieldwork units via an online learning platform is presenting challenges and opportunities to innovate teaching practice.

School of Humanities
Professor Alexandra Ludewig

German Studies

For the past 20 years, theatre productions have been an integral part of the German Studies curriculum at UWA. Every year, students have to research, write and perform an original play, immersing them in the material and linguistic world of German.

In 2015, students adapted Grimm's fairy-tale Hänsel & Gretel into a drama about child refugees and in 2016, students wrote a play about German settlers in Western Australia. In 2017, students examined Clara Schumann's life and love in words and music, fusing vignettes from her life with complementary musical interludes in the final performance which saw 16 musicians from the then UWA School of Music performing Robert Schumann's famous cycle of songs, Frauenliebe und -leben .

This year, Goethe's classic Faust forms the basis for an adaptation that foregrounds Gretchen rather than Faust's perspective.

The COVID-19 pandemic quickly made a live performance impossible, so the students decided to work on a screen version. With every week and every new restriction on gatherings of people, even the plan for a filmed version had to be abandoned.

To innovate through these challenges, the students will now record their voices individually, edit them professionally, as if for a radio-play, and will even try their hand at animation to include a visual element to their performances.

Professor Ludewig finds the students' abilities to adapt and innovate in difficult circumstances remarkable.

"I continue to be impressed and deeply humbled by their dedication, creativity and positivity in response to this crisis," Professor Ludewig said.

UWA Law School
Professor Erika Techera

Advanced Legal Research (Juris Doctor)

Research students taking Advanced Legal Research classes for the Juris Doctor have been taking part in virtual research seminars, including sessions by guest lecturers, all via Zoom. Students have also been meeting with their supervisors for 'learning lunches' – informal sessions for students and supervisors to discuss and share research during a Zoom virtual lunch.

"The transition has posed challenges for research students, specifically around support in skill-building; we are co-creating solutions to address this in an ongoing capacity to reflect students' needs," Professor Techera explained.

Putting in place opportunities for both formal and informal interactions ensures students are enabled to succeed in their research capabilities and outputs during this challenging time, and allows supervisors to monitor student wellbeing, share research tips and tricks, and direct students to additional helpful resources relating to time management and motivation.

Dr Marilyn Bromberg

Social Media and the Law

As students in Social Media and the Law unit Zoomed into their first online tutorial, they were greeted by the theme song to Gilligan's Island and asked to consider the relevance of this song in relation to the weekly content.

There was, in fact, a direct relationship with the week's allocated reading: a discussion of a prosecutor who composed a poem about a trial to the tune of the Gilligan's Island theme song and posted it on Facebook before the trial was over.

Dr Bromberg from the UWA Law School intends to find novel and interesting ways that relate to the week's content to commence each online tutorial, with the aim of keeping students engaged and enthusiastic about learning in the virtual pace.

"The students appreciated this original and creative way to commence the tutorial and engage their lateral thinking around social media and the law, through this diverse virtual platform," she said.
Tags
Groups

Education Quarterly