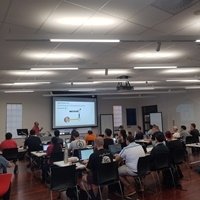 Saturday, 4 April 2020
The culmination of UWA's inaugural 24-week Coding Boot Camp, delivered in person on campus through UWA's partnership with Trilogy Education Services (Australia), was to be marked by a Demo Day event in Perth's CBD on Thursday 19 March.

The event would allow students to share their projects with more than 70 industry professionals to demonstrate their coding and programming talents to prospective employers and to network with local professionals.

In light of the unfolding COVID-19 outbreak, the Trilogy Education Services team rapidly managed to move the Demo Day event to a virtual space in a matter of days, while maintaining the opportunity for the participants to showcase their projects.

Trilogy's Student Success Manager, Renata Iraha, said the virtual event was a success and saw 33 virtual participants, as well as nine students present their final projects, demonstrating the Full Stack applications they worked so hard on during the 24-week intensive Coding Boot Camp.

The projects presented at the Demo Day included e-commerce apps, sporting apps to track data, and a stock trading journal. A standout project was an O2O (online to offline) vending machine app, using innovative technologies and design. To top it all off, this was a real project for a real-world client.

Industry professionals who attended the demonstration event provided overwhelmingly positive and constructive feedback for the students, as well as resounding thanks to staff members for coordinating the last-minute event changes.

UWA and Trilogy Education Services will continue their partnership in providing high-quality boot camps to participants, with an expanding program of offerings throughout 2020 to be adapted for online delivery.
Tags
Groups

Education Quarterly