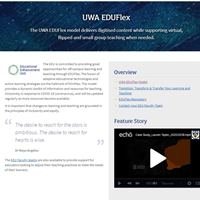 Saturday, 4 April 2020
The EEU is committed to providing great opportunities for off-campus learning and teaching through EDUFlex .

The fusion of adaptive educational technologies and active learning strategies are hallmarks of the EDUFlex model which provides a dynamic toolkit of information and resources for teaching inclusively in response to COVID-19 (coronavirus), and is updated regularly as new resources and features, such as our Live Chat function, become available.

The EDUFlex model provides an online framework for designing and planning lessons, teaching and supporting learning, assessing and giving feedback, developing effective learning environments and engaging in continuous improvement and evaluation of learning and teaching.

By encouraging interactive and adaptable ways of teaching, EDUFlex educators are poised to lead the transition , transformation and transfer of learning and teaching to the digital environment at UWA.
Tags
Groups

Education Quarterly